How Much Longer Can the Hawks Go?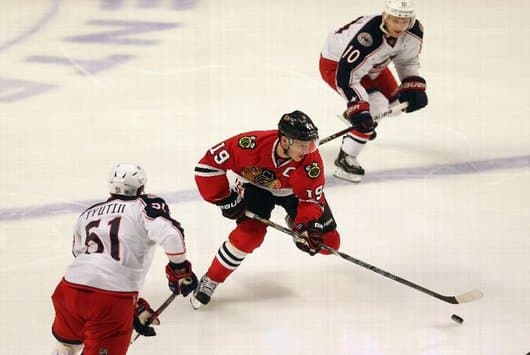 The Chicago Blackhawks improved to 18-0-3 with a 4-3 overtime thriller over the Columbus Blue Jackets on Friday. Brent Seabrook finished the great passing play by Jonathan Toews for the overtime goal. The other Blackhawks goals were scored by Viktor Stalberg, Patrick Sharp, and Bryan Bickell. Ray Emery improved his record to 9-0-0.
The question is how much longer can the Blackhawks keep their streak alive? The Hawks play four times in the next week. The Blackhawks are in Detroit on Sunday; they will host Minnesota on Tuesday; and they will play Colorado twice (home Wednesday, and at the Avalanche on Friday).  There are a few reasons why the Red Wings will be the toughest test within this next week. First, they are fifth in the Western Conference—which is the highest ranked team they play this week—and, second, that game will be the Hawks' third game in three and a half days. If the Hawks can get by the Wings, there is no reason not to believe that Chicago will be undefeated this time next week, but there is no such thing as a guarantee win in the NHL.