Despite controversial no-calls, Spurs handed Heat historic Game 6 win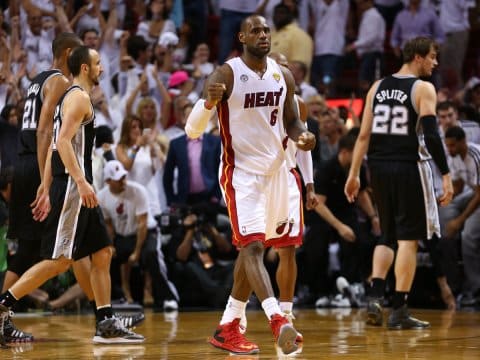 In the 2011 World Series, the Texas Rangers were one strike away from defeating the St. Louis Cardinals not once, but twice. After a couple of hits, that one strike eventually turned into a legendary walk off home run for the Cardinals' David Freese and the rest was history. The Spurs just like the Rangers were one strike away from a title heading into the fourth quarter of Game 6 of the NBA Finals leading the Miami Heat 75-65.
The lively Miami crowd turned quiet as the touted four-time champions turned the corner and simply had to stay the course for 12 more minutes to earn their fifth title. In a series made up of back and forth runs where neither team won back-to-back games through the first five games, the Spurs had to stave off one last Miami run. The savvy, veteran Spurs have always been the model of late game execution. An epic collapse by the likes of Tim Duncan and Tony Parker was near impossible. Upwards of 2,000 fans exited American Airlines Arena and even LeBron mentioned that he noticed workers start to bring out the Larry O'Brien trophy. The Spurs were once again one strike away, up five with 28 seconds left—that was until the basketball gods swung in Miami's favor. One rebound or one stop would've sufficed for San Antonio in the final minutes of regulation, but Miami used their last strike on a Ray Allen three-pointer to put the game into overtime. In what will either be remembered as a spirited comeback or an epic collapse all that really mattered to NBA fans around the world was it was the epitome of entertainment.
Entering Game 6 most people had Danny Green or Dwyane Wade as frontrunners on their Finals MVP ballots. As long as Miami wins the series there's no question who the MVP is now. No one has faced more heat in this series than LeBron James and prior to the fourth quarter on Tuesday most of it was warranted. James averaged a mere 21.6 points per game in the Finals with his team trailing 3-2 in the series after averaging 26.8 during the regular season. James once again struggled to get his offense going, as he had 16 points entering the fourth quarter. With Miami desperate for a bucket to ignite a run James was held without a field goal since 5:07 in the second quarter. It was the time where great players are called upon to do what they do best. A moment where great players either put up or shut up—and James put up big time.
James finally broke his slump with a lay-up to cut the Spurs lead to 75-70 with 11:06 left. James went on to outscore San Antonio 11-9 in the first 7:15 of the period. James's put back on a Mario Chalmers miss that cut the Heat deficient to 80-77 with just less than nine minutes left is when it happened. The headband came off; revealing LeBron's receding hairline and more importantly tapping into some mystical untapped potential. With the headband off and the Joel Anthony look on display, James had 14 points, 4 rebounds, 2 assists and 1 steal, as well as the Duncan block. James's play was surprisingly better with Chris Bosh and Wade on the bench, as has been the case throughout the series. James has a -56 plus/minus with Bosh and Wade on the court and a +48 plus/minus with Wade and Bosh on the bench. In short, LeBron brought out his inner Cleveland mode. James finished with 32 points, 10 rebounds, and 11 assists—his third triple-double in his last seven Finals appearances. James joins Charles Barkley and James Worthy as the only players with 30-10-10 in the Finals.
Even with pretty numbers, LeBron didn't exactly have a story book ending. After the Heat took an 89-86 lead in regulation the Spurs exploded on an 8-0 run and James was once again called upon to prove his greatness. With under a minute left in both regulation and OT, James was 1-4 from the field with three turnovers with his lone field goal coming on a desperation three pointer in regulation to cut the Spurs lead to two. James's only points in overtime came with 1:43 left from a bunny 7-footer setup by Wade which went on to be the game winner. James did his job and then some to bring Miami back, but he did little in crunch time to silence his critics.
On the flip side, Ray Allen strengthened his big shot persona by hitting the biggest shot in his illustrious career. After Bosh corralled the offensive board off a James miss, he flipped the ball to Allen who sprinted to the three-point line like his life was on the line. Allen elevated over Parker and swished the game-tying three-pointer with five seconds left. The shot was only Allen's second field goal of the game and it not only kept Miami's title hopes alive, but also saved LeBron from inevitable criticism.
According to Basketball Reference, Miami overcame the 5th largest fourth quarter deficient in the Finals since 1955. After Ginobili made his second free throw after missing the first the Spurs led 94-89 with 28 seconds left. In the past 15 seasons, teams are 1,850-27 and have won 98.6% of the time when up five points with 20-30 seconds left.
Spurs fans, Miami haters, and even myself were quick to blame the officiating for the two disputed no-calls at the end of the game—but upon further review, the win is hardly tainted for Miami. First and foremost, San Antonio only has themselves to blame. Tim Duncan scored a Finals career-high 25 first half points and only scored 5 points in the second half, going 0-5 in the fourth quarter and OT. While Tony Parker hit two unbelievably gutsy shots in the fourth quarter to first tie the game on a three-pointer and take the lead on a tough lay-in, his 6 for 23 performance left some to be desired. Meanwhile, Ginobili had 8 turnovers and missed a clutch free throw and the once automatic Danny Green went 1-5 from three-pointland. Even The normally calm and collected Kawhi Leonard who finished with 22 points and 11 rebounds failed to ice the game at the free throw line to put the Spurs up 4 with 19 seconds left. With that being said, let's go back to the controversial calls.
With Miami up 101-100 with nine seconds left in overtime Leonard corralled a miss on a Wade jumper. Coach Gregg Popovich elected not to use his timeout, which triggered a congested fast break for the Spurs with their best offensive threat, Tony Parker, sitting on the bench. The ball ended up in the hands of Ginobili to the dismay of anyone rooting for San Antonio, as he trudged forward with his patented Eurostep—only this time taking a third step after the gather. With Allen and Wade smothering Ginobili he was forced to cough up the ball. Allen clearly hacked Ginobili on his drive to the basket but the peak of the contact appeared to come after Ginobili had already traveled. Also, Ginobili hasn't exacted endeared himself to the refs with his history of flopping. In such a pivotal moment of such a vital game it was probably the right choice by the referees to keep their whistles in their pocket.
The final play of the game has also been up for review. Bosh vowed prior to Game 6 that Green wouldn't get open looks—and he didn't disappoint. With the Spurs down by three, Green received the inbound on a flare curl that found him in his favorite corner, but a quick close out block by Bosh sealed the victory for Miami. Some fans, as well as ESPN commentator Jeff Van Gundy believed Bosh had bodied Green and hit him off balance after the rejection. This was a play that could've easily been called a foul had it been in the first quarter, but the body contact was minor and Bosh had his entire hand on the ball. When it comes down to it both no-calls were controversial, but had they been called there likely would've been controversy from the other side of the debate anyways.
The mess at the end of the game was a blemish in an otherwise astonishing NBA Finals contest pitting two of the best teams the league has to offer. Whether you're a Spurs fan, Heat fan or just an NBA fan, we all can agree that Game 6 was one of the greatest games ever played and yet—a  champion is yet to be crowned. It pretty much goes without saying that Miami has all of the momentum right now. Even Ginobili couldn't bluff in the presser, "I have no clue how we're going to be reenergized. I'm devastated. But we have to. There's no Game 8." A road team hasn't won Game 7 in the NBA Finals in 35 years, so San Antonio will have to reenergize to say the least. Luckily for the Spurs, Game 6 was an anomaly in that we've never seen a game like it in the past which could skew their long odds a bit. If there was ever a team that could immediately forget about a loss and move onto the next game it would be this group of San Antonio players. The Spurs used up two strikes in Game 6. We'll see who steps up to the plate on Thursday.