HELLO FOOTBALL FANS!!!

The day is finally here! The Alliance of American Football (AAF) kicks off tonight at 7:00PM!

Interesting AAF Rules that differ from the NFL:
— There will be no television timeouts and fewer full-screen commercial breaks. That, along with a 35-second play clock (the NFL's is 40 seconds) and some of the changes listed below, could shave 30 minutes off an NFL game's traditional three-hour running time.

— No extra points. Every touchdown will be followed by a two-point conversion attempt. Field goals are still an option in regulation, however.

— No kickoffs. Each team starts a possession after a score or at the start of a half at their 25-yard line.

— Instead of onside kicks, which are not allowed, teams will attempt the equivalent of a fourth-and-12 play from their 28-yard line. A conversion means it keeps the ball. These will only be allowed when a team is trailing by at least 17 points or for either team in the last five minutes of a game, according to the Associated Press.

— There will be a ninth member of the officiating crew called a "SkyJudge," who will sit in the press box and "use real-time technology to correct clear errors involving player safety anytime during a game, and pass interference inside of five minutes left in the fourth quarter," the AP reported.

— Overtime is different: Each team will get the ball only once, first and goal from the 10, and they have to score a touchdown and go for two (field goals are not allowed in the extra period). Games can end in a tie.
Official AAF Teams: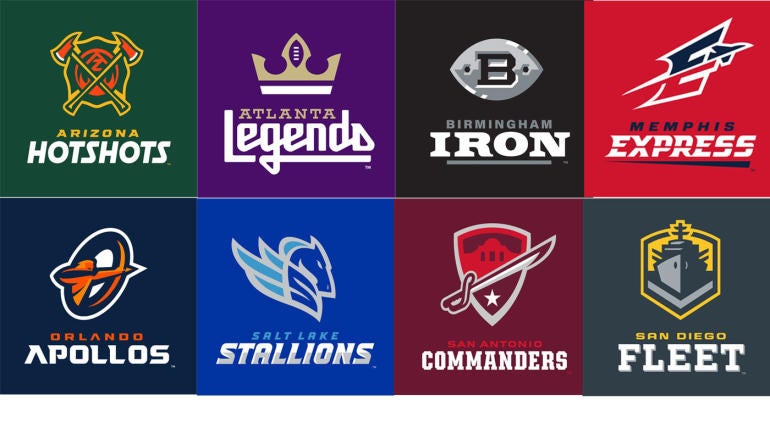 Standings:
East Division
Birmingham 1-0
Orlando 1-0
Atlanta 0-1
Memphis 0-1
West Division
Arizona 1-0
San Antonio 1-0
Salt Lake 0-1
San Diego 0-1
Results:
Week 1:
San Antonio Commanders 15, San Diego Fleet 6
Orlando Apollos 40, Atlanta Legends 6
Birmingham Iron 26, Memphis Express 0
Arizona Hotshots 38, Salt Lake Stallions 22
Week 2:
Friday
Salt Lake Stallions at Birmingham Iron, 2 p.m. ET, TNT

Arizona Hotshots at Memphis Express, 8 p.m. ET, NFL Network
Sunday
Orlando Apollos at San Antonio Commanders, 4 p.m. ET, CBS Sports Network

Atlanta Legends at San Diego Fleet, 8 p.m. ET, NFL Network