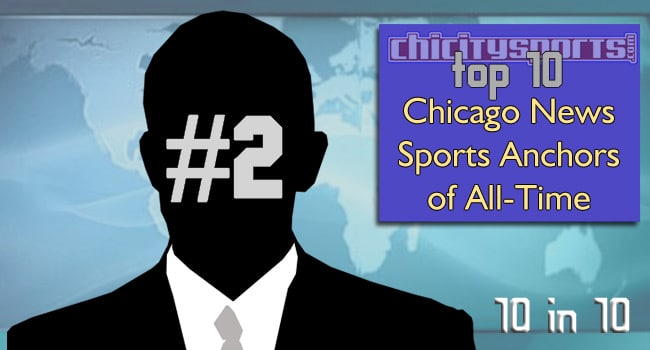 Welcome back to the 10 for 10 where we'll name another Anchor in our top 10 Chicago News Sports Anchors of All-Time.
[divide style="3″]
#2. Bruce Roberts
[divide style="3″]
[divide style="3″]
[divide style="3″]
[divide style="3″]
[clear]
In addition to the desk, Bruce might also be remembered as the color commentator along the side of Brent Musburger for the Bears games that were hosted on CBS. In 1949, Bruce's career at WBBM started, and he remained there until 1981 when he died at the age of 53 from a heart attack. He remains the longest tenured sports anchor in Chicago history, and for good reason. He just kept getting better. Roberts did not use a teleprompter, just his notes. Everyone around Bruce, enjoyed working with him.
To go along with the Kurtis-Jacobson powerhouse that made up CBS 2, WBBM needed the best to compliment their top rated Chicago News. Bruce Roberts contributed to that gold standard, that helped WBBM set the tone for local news programs for the years to come. His quick delivery, solid predictions, and touch of humor remain among the biggest, if not the biggest, inspiration for the next generations sports anchors.
It's a shame that Bruce didn't make it into the modern era of sportscasting. He would have fit into any era, because he was always a man of the time, as well as man that was ahead of his time in the field of sports anchoring.
[clear]
And then there was 1 Updated: Go to #1
A News Sports Anchor is the person you usually see near the end of the news program giving out the sports highlights and scores for the day. Only Chicago television news programs are considered. The programs can be found on WBBM 2, WMAQ 5, WLS 7, WGN 9(including CLTV), WFLD 32 as the morning, afternoon, daytime, evening, nightly, or various weekend news.