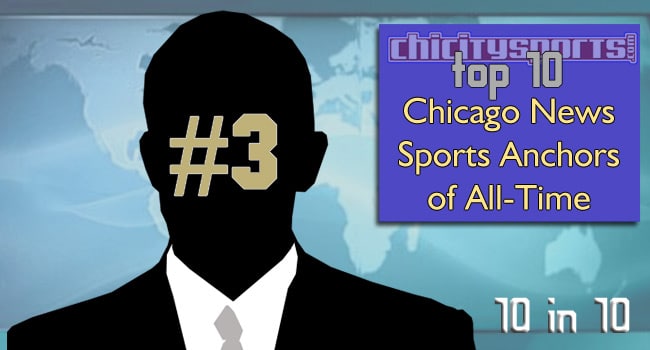 Welcome back to the 10 for 10 where we'll name another Anchor in our top 10 Chicago News Sports Anchors of All-Time.
[divide style="3″]
#3. Jim Rose
[divide style="3″]
[divide style="3″]
[divide style="3″]
[divide style="3″]
[clear]
Jim Rose has maintained and set the standard for sports field reporting in Chicago. In the newsroom, Jim delivers as good as anyone. Away from his desk and out in the field as a sports reporter, Jim takes your everyday sports news, and paints a complete picture in your mind, with precise narration and recap of events. Never a dull moment, even on a dull day. He is so good at field reporting, that Rose will host many night's sports segments away from the desk with a full recap on the fly with full organization and composure. The fact that he has been as much of a sports reporter as an anchor made it hard to fairly rank Jim Rose according to the criteria of this list. Jim really shines when he is on location.
Jim is the longest active tenured Chicago News Sports Anchor (second in Chicago history). While longevity is important, that was not the deciding factor in Jim's placement. Sure, every major Chicago Sports moment in the last 32 years, Jim Rose was likely nearby. But that wasn't the sole deciding factor. Jim Rose is one hell of a sportscaster, and his reporting has been as consistent from day one to day eleven thousand and one.
Perhaps you didn't know Cheryl Burton, a current anchor on WLS 7, was once a Honey Bear(back when the Bears had cheerleaders) and Jim Rose proposed to her a few days before the Bears won Superbowl XX. Talk about being a Chicago sports guy, even his wife was part of the Bears. They are since divorced, but his on-air attitude performed with the same level of consistency as ever during good and rough times. I apologize if that is a bit personal, but the composure shown working day in and day out, with your wife and then ex-wife, takes unbelievable strength and professionalism, on both of their parts. Kudos, however, the story within a story is just icing on the cake. It's a pleasure to name Jim Rose as ChiCitySports #3 Chicago News Sports Anchors of All-Time.
[clear]
Eight down, two to go. Updated: Click here to see #2
A News Sports Anchor is the person you usually see near the end of the news program giving out the sports highlights and scores for the day. Only Chicago television news programs are considered. The programs can be found on WBBM 2, WMAQ 5, WLS 7, WGN 9(including CLTV), WFLD 32 as the morning, afternoon, daytime, evening, nightly, or various weekend news.
For More Great Chicago Sports Content
Follow us on Twitter at @chicitysports23 for more great content. We appreciate you taking time to read our articles. To interact more with our community and keep up to date on the latest in Chicago sports news, JOIN OUR FREE FACEBOOK GROUP by CLICKING HERE