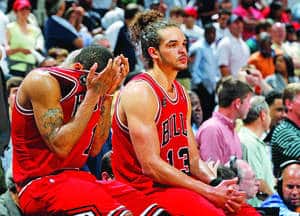 By: Bill Renje
The time has come for Bulls fans to readjust their expectations because last night is when the 2010-11 Bulls officially jumped the shark. The Bulls return to Chicago tied 2-2 against a team that finished with 18 fewer wins in the regular season.  Suddenly Coach Thibodeau, Derrick Rose and the rest of the young Bulls find themselves in the biggest game of their young careers.
While I still expect them to get past the Hawks, I honestly don't see them winning two games in the next round – not unless Rose can come out of the phone booth every game with a 40+ point effort. And maybe that's OK? Maybe a trip to the Eastern Conference Finals should be celebrated and used as a stepping stone? After all, MJ's Bulls lost two consecutive conference finals before finally breaking through against the Pistons in 1991.
The Bulls' shortcoming — besides the well-written saga known as Carlos Boozer — is obvious.  You can hide a tough interior guy who is a solid defender, yet lacks scoring ability (think Dennis Rodman). It's tough, though, to compete for a championship when you're trying to hide "shooting" guards who can't get their own shot. Korver is a decent role player – emphasis on the words decent and role. And yes, Rose took too many shots in the Fourth Quarter.  But what does that say about his confidence in his teammates' ability, or lack thereof, to score?  The reality is Luol Deng is a solid third option but he's a poor man's number two, which is the role he's forced to play with this team's offensive limitations.
Right now, as this team is put together, too much is being asked of Rose. They keep getting exposed by teams with the luxury of gearing up solely for them. Like with Lebron's Cavs, you can accumulate a lot of regular season wins in today's NBA when you catch other teams on a 10-day roadie, back to back, three games in four nights and guys routinely take nights off; all of which changes in the playoffs when teams prepare for you every day for up to two weeks.  Likewise, Coach Thibs' daunting defense isn't quite as intimidating when when opponents have the luxury, day in and day, to study it, prepare for it and ultimately exploit their weaknesses.  
The Bulls are who they are and there's no changing now.  Count me among the disappointed that the front office didn't pull the trigger on Omer Asik for O.J. Mayo. They could sure use a shooting guard capable of getting his own shot with the potential of scoring 16-20 a night. When you ask Kyle Korver to come in and provide instant offense, you're asking a lot. It's not totally fair – but inflated expectations due to a 62-win season are going to lead to an evitable letdown for the fan base.
Chicago sports radio should be fun for the next few days.  Personally, I think we should look at the bright side and consider the Bulls a work in progress.  NBA teams, with few exceptions, don't go from a .500 team to a championship contender.  Basketball isn't like other sports; NBA champions typically have to go through tough periods of getting their hearts broken before they break through to hold parades and rallies.  We should also look on the bright side and just hope the Bulls keep winning because every day that we don't have to think about Chicago baseball is a good day.