New Look Chicago Blackhawks Welcome Adversity, New Challenges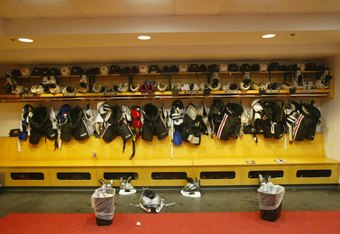 The aftermath of the salary cap whirlwind has left many fans looking up and down the Blackhawks' depth chart wondering who is actually on their team.
While the "elite" of the team has primarily remained intact, the faces and personalities that have left cause a moment of reflection in the locker room.
On and off the ice, the Blackhawks moral was well known and envied by the opposition throughout the season. The ability the team displayed following losses or playing through multiple injuries made for a season that ended with a Stanley Cup and a nationwide celebration.
What the Hawks accomplished was completed with hard work, determination, and focus.  Period.
The mentality Joel Quenneville brought to the Chicago bench was, "never make the same mistake twice," and it showed.
While there are always lows throughout a season, the Hawks put their stamp on the path to success. The playoff run the Hawks made went exactly the way it was scripted and…for the most part. With the exception of the two road losses to the Flyers, the Hawks never lost two consecutive game.
This was accomplished by not only playing as a team, but because someone stepped up when a play needed to be made.
Out of the 16 playoff victories, nine different players scored game winning goals:
Dave Bolland
(2-0 vs. Nashville Game 2)
Patrick Sharp
(3-0 vs. Nashville Game 4)
Marian Hossa
(3-2 OT vs. Nashville Game 5)
Jonathan Toews
(5-3 vs. Nashville Game 6)

(7-4 vs. Vancouver Game 4)

(4-2 vs. San Jose Game 2)

Kris Versteeg
(4-2 vs. Vancouver Game 2)

(5-1 vs. Vancouver Game 6)

Dustin Byfuglien
(5-2 vs. Vancouver Game 3)

(2-1 vs. San Jose Game 1)

(3-2 vs. San Jose Game 3)

(4-2 vs. San Jose Game 4)

(7-4 vs. Philadelphia Game 5)

Tomas Kopecky
(6-5 vs. Philadelphia Game 1)
Ben Eager
(2-1 vs. Philadelphia Game 2)
Patrick Kane
(4-3 OT vs. Philadelphia Game 6)
The proof up above shows that the Blackhawks depended on more than two lines to succeed. Players stepped up and when they weren't expected to.
Who thought Byfuglien would have scored five game-winners in the playoffs?
Who thought Eager would have the winning tally against Philly in Game 2?
As the 2010-11 season comes into focus, three of those players will be in a different sweater.
Dynasty is hardly a word to be thrown around with ease, but yet people assume one exists.
Hardly.
A team that believed its destiny was to be Champions now has to re-focus on what got it there. Fan favorites such as Byfuglien and Versteeg , while being missed by the hockey enthusiasts in Chicago, will be forgotten. While accumulating support through success and fan-friendly personality, a team naturally will adapt and change as needed when facing adversity.
The Blackhawks are probably more aware than any team of what it takes to go from the cellar to the mountain top. While a long journey, the turn-a-round was completed in just a few years. The Hawks will only be as successful as those who can come in and fill the voids left by the recently departed players.
Whether free agents or in-house prospects, the Hawks will have to find a combination that creates a spark. There are no doubts that whoever is brought to the organization or up from the minors, the Hawks will have the chance to win.
With the infamous "core of players" still intact, it would be hard to imagine the Hawks miss the playoffs. Of the players leaving, they accumulated for more situational quality then offensive production.
| | | |
| --- | --- | --- |
| 2009-10 Player Departed | Role(s) Played | 2010-11 Player to Step In |
| Dustin Byfuglien | Provided a big body and has become a premier power-forward with his playoff output in 2010.  ­ | Bryan Bickell : While having a few opportunities in the playoffs, this off-season will prove to be Bickell's opportunity.  He shows great hands for a man of his size. |
| Ben Eager/Adam Burish | While playing with pure energy, the tandem was successful by getting the opposition out of focus and serve as enforcers. Who could have thought a   player of Burish's caliber would be able to frustrate the likes of an All-Star like Chris Pronger.? You can't say he didn't. | John Scott: He brings an enormous 6'8" frame to the defensive corps.    While not being much of an offensive threat his size will move men around in the trenches effectively. |
| Andrew Ladd | While displaying good size, Ladd also developed a scoring capability.   While being  a quality two-way player, he worked most proficiently near the crease in the offensive zone. | Jack Skille /Jake Dowell : A tale of two different players, one will come out of this to fill the hole Ladd's departure left.  Skille serves as more of a scoring threat, while Dowell's value revolves around his two-way mobility.   Both have decent size and play with the physicality Ladd brought on a nightly basis. |
| John Madden | A face-off specialist that at times owned the circle.  Brought experience in one of the youngest locker rooms in the NHL. | Marty Reasoner: A veteran all the same, he will be the Hawks face-off go to man in the same sense Madden was.  He will almost certainly anchor the checking line, while putting in time on the penalty kill as well. |
| Kris Versteeg | Often labeled as a play-maker, many often criticized for possibly doing too much.  While bringing character to the clubhouse, Versteeg brought genuine speed and the ability to score. | Viktor Stalberg : The difference between Versteeg and Stalberg is simple… speed and puck handling.   Stalberg will provide more north to south attacking options where as Versteeg could facilitate the puck left to right.   Ideally, Stalberg should fit right into the Hawk strategy. |
| Brent Sopel | Played in the third defensive pairing,    Sopel raised his stock in the playoffs by displaying the ability to work the blue    line. While at times being shaky with puck control, mistakes were often corrected.  Must also note that Sopel started 73 games over the regular season. | Ivan Vishnevskiy : A young defenseman , ideally should be on the third line just as Sopel was.   With Scott being brought in it would be a surprise to see these two paired.  Another understudy beside Campbell is a possibility. |
Obviously there can be statements made for many other who may be given an opportunity throughout the season.
Players such as Kyle Beach and Shawn LaLonde , if they don't earn a spot in camp, will surely at least get one or two opportunities to earn a spot during the season.
Beach, 20, has a nose for the net and is an asset on the power play.  Being a power forward, Beach is plagued by perceptions of attitude problems. He is quite capable and he will be given every opportunity to develop as a professional.
LaLonde , also 20, has the ability to jump into the rush when required. Though he displays good instincts on the ice, he needs to show that he can be consistent when it comes to defensive decision-making.  If  he can develop his strength, LaLonde will be a true "top 4" defenseman in the future.
Lying ahead is just what the Hawks need… adversity and a challenge.
The faces of the Hawks are changing, and with that the skepticism rises. With the players who have already departed, 73 regular-season goals are gone as well.
Where will those come from next year? The question remains, but the Blackhawks have the ability to answer it.
The doubters will exist. It will be up to the 20-plus players donning the Blackhawks' sweater to show why they are the defending Stanley Cup Champions next season.