Rex Grossman Redskins Watch : vs Dallas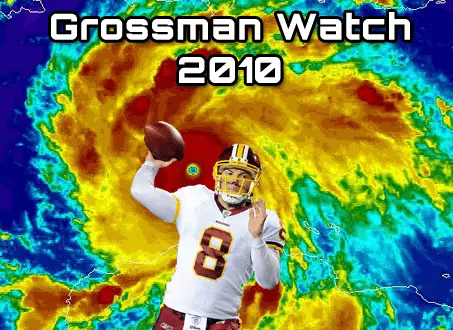 Here at ChiCitySports headquarters, we're going to be covering Grossman watch 2010. You may have heard that Washington Redskins head coach Mike Shanahan benched starting quarterback Donovan McNabb. This had led to the (re)emergence of Rex Grossman. In his first game starting for the Redskins, Grossman faced the Dallas Cowboys.
Grossman completed 25 of 43 passes, 4 touchdowns and 2 interceptions. The offense led by Commander Grossman compiled the most points scored in a game this season for the Redskins. Despite his efforts, the Redskins would lose 33-30, by a last minute field goal by Dallas. Prior to the field goal, the Redskins were down 30-22. Grossman led his team down the field to tie it up at 30. Washington's defense gave up enough yards for Dallas to secure a game-winning field goal. Everybody in Chicago (and worldwide) applauds Sir Grossman for his performance this week. Tune in next week as Grossman faces a tough Jacksonville Jaguar squad. GROSSMAN WATCH 2010.
While we have your attention, please take a minute and swing by our Message Boards to discuss Chicago Sports with many other fans. https://chicitysports.com/forum