A man who grew up financially set, with little to work towards in order to survive, Joakim Noah has been an inspiration for many. They might not like him in Boston or Cleveland. He might not relate with many of the players who grew up fighting their way to NBA dreams to get out of poverty. Animosity is the enemy and friend of each individual in their own way, though Noah remains to be a unique character in the respects of all the backgrounds of every player and fan alike.
Each player in the NBA has their own unique story. Some want to win, some want to make money, some want to help the greater good, and some just love the game of basketball. Joakim is a mix of everything, but most of all, he is a player that doesn't know how to give up.
From the day the 2010 season ended up until now, Noah has fought a plethora of battles in a short period of time. He rehabilitated his plantar fasciitis with a number of different treatments. He survived trade rumors. He made it through his first NBA contract extension. He also played part of the season with an injured hand, only to worsen his condition and miss a portion of the season.
Coach Thibodeau commented on Noah's progress, saying he had done more than any team could ask of him, in order to be ready when the trainers and medical staff gives the Bulls a green light. He bent a screw in his cast after weight training, which would seem to be against the doctors orders, and continued to work on conditioning while Kurt Thomas took over the role of starting center. There's a lot to be excited about in Chicago, when Noah's loss became added roles for hard working Taj Gibson and Turkish rookie Omer Asik. The loss also added to critical play-making for Derrick Rose who has inserted himself into top contentions for the NBA's Most Valuable Player award.
Noah's highly recognized quote of having his friends may have raised questions early in his NBA career. After heart-filled playoff efforts and recent displays of polishing his offensive weapon set, there is no question to who wants to be Joakim's friend.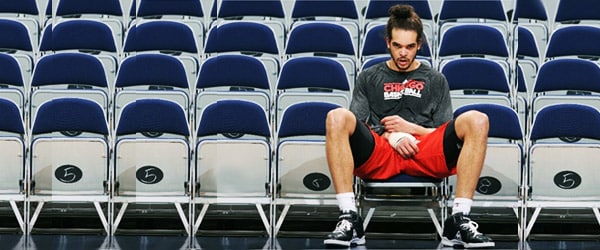 Joakim Noah is expected to be back as soon as Wednesday, February 23th at Toronto, but could come back as late as Monday, March 7th against New Orleans.