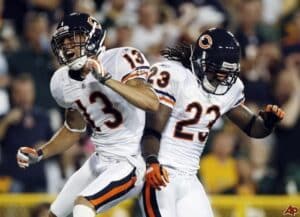 While it appears that the Bears are poised to take either an offensive or defensive lineman there is always a chance that Chicago could take a wide receiver with the 29th pick in the first round of the 2011 NFL Draft.  Chicago doesn't have a true number one wide receiver right now and could use help at the position desperately.
With it likely that the Bears are going to try to use wide receiver/special teamer Devin Hester much more on special teams, thus scaling back his time on offense, Chicago may be on the lookout for a wide receiver that they can call a number one receiver.  Would they make an attempt to draft a wide receiver in the first round?
Of course it would depend on who is there when they make their pick at 29.  It is assured that the top two receivers in the draft, Georgia's A.J. Green and Alabama's Julio Jones will be long gone by the time Chicago makes its pick.  It's just a little likely that Maryland's Torrey Smith could be gone at this point too but Chicago may be lucky enough to find him there at number 29.
If Chicago decides to go with a wide receiver then they will probably have a choice between Smith and Pittsburgh Jonathan Baldwin.  Both players have their ups and downs so let's take a look both players, see how they might fit with the Bears and which one, ultimately, would be the best pick for the Bears if they decide to go with a wide receiver in the first round.
When it comes to speed, Maryland's Smith seems to have plenty of it.  He has the size that the Bears would like at the receiver position and runs good routes (a plus for the Bears).  He is a very productive receiver and has great physical tools.
What he lacks is the need for some refinement in his pass catching ability.  He catches a lot of passes with his body and not his hands and needs to get better at doing that.  There are some scouts that feel his hands are too small and that he may need some work before becoming a solid NFL wide receiver.
Jonathan Baldwin comes in with excellent size for the position and has the speed that Chicago would be looking for in a number one wide receiver.  He has the ability to out jump cornerbacks for the ball, isn't afraid to go over the middle to make a catch and has an unlimited upside.  He does come into the league with some concerns about his character.  He needs to run better routes and get off the jam at the line better than he did in college.  Motivation might also be a problem for Baldwin but his talent will be too difficult to pass up in this draft.
These two prospects have their ups and downs and while they may not seem perfect they may be better than what the Bears have right now.  With a dangerous weapon at the wide receiver position, opposing defenses would have to worry about much more than the Bear's running game and it would keep some of the pressure off of quarterback Jay Cutler and give him another weapon to throw the ball to.
But in all reality, the Bears could wait until a little bit later on in the draft to get a wide receiver because their needs on the offensive line (and defensive line) are the most serious at this point.  So let's hope that the Bears go with their biggest need first and wait to get a wide receiver but if they do end up trying to get one in the first round and number 29 then we at least have some idea of who they might shoot for.