The Chicago Blackhawks are now in total control of their destiny. After beating the Detroit Red Wings Friday night 4-2 the 'Hawks have inched closer to clinching a playoff spot.
But they're going to have to prove themselves again.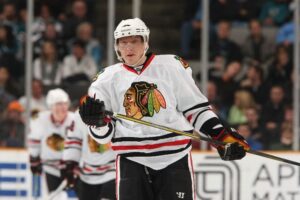 The Dallas Stars are not going away easily. They've been trailing the 'Hawks, hoping to grab a playoff spot late in the season for the past two weeks. The Stars needed to win their game Friday night and did, forcing the 'Hawks to now, at least, earn a point in Sunday's game against the Red Wings.
After 81 games of grinding it out, it all comes down to game 82.
A win, an overtime loss, a Dallas loss, or  Dallas overtime loss will all give the 'Hawks a playoff spot. It's a lot easier said then done, especially for a 'Hawks team that has had a roller coaster season plagued with inconsistency and third period blowouts.
The 'Hawks need to find a way to play with the kind of urgency and determination they showed on Friday. Three goals early in the first period buried the Red Wings, and while I love close games, I'd rather not have as heart attack over a hockey game.
The first line and second line attacking the net was key to the success of the 'Hawks Friday night, proving, once again, that when the top line performs well the team wins. But the lack of production from the bottom two lines still bothers me.
Good teams get production from their stars, but great teams get it from everyone
Sunday's game will be in Chicago at the United Center, so there should be no problem with crowd support. It actually fits into the dream finish of clinching the playoffs in front of your home crowd.
With all these advantages, there is still one glaring problem:Detroit will come back with a vengeance.
Rivals love to see ruin each other's day, and what's worse than beating your rival and be the reason for them possibly not making the playoffs?
With such much to win and possibly lose, the 'Hawks better play their best, or it could cost a whole year full of proving that they can still be a force in the NHL.