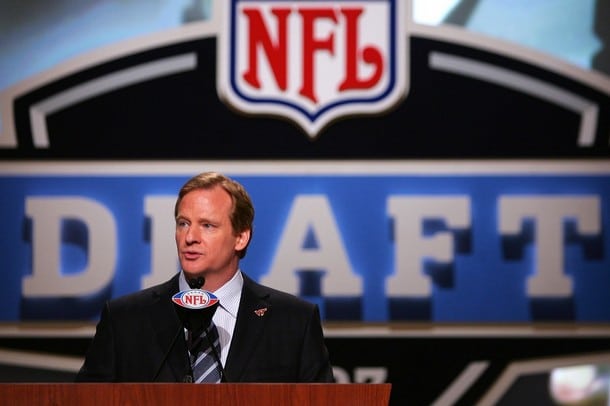 After so much speculation, the 2011 NFL Draft has finally arrived and it's time that we see whether or not the Bears can continue to build a winner or end up setting themselves back a couple of years.
It all comes down to what happens this weekend.
It's been said that the Bears are likely candidates to trade out of the first round and acquire additional picks later on in the draft and to be honest that sounds like a very likely scenario.
So, in the spirit of the draft and the end of the draft season, here is one more mock draft featuring some ideas about what the Bears may do with their six picks in the draft and what players just might interest them.
Round One, Pick 29 (29th Overall) Derek Sherrod-OT-Mississippi State-The Bears best choice is to go after an offensive lineman here and Sherrod would give them the ability to make some positive changes on the offensive line and make it much better.  Sherrod is a solid tackle and should be available when the Bears make their pick here at number 29.
Round Two, Pick 30 (62nd Overall)-Marvin Austin-DE-UNC-I have spoken out against Austin in the past but if he's available late in the second round and if the Bears feel that he's over his issues then he just might be what they are looking for at the defensive tackle position.  Austin was a monster when he was playing and if he can keep his nose clean and play 100 percent all of the time then he could be one of this year's draft's best finds.
Round Three, Pick 29 (93rd Overall)-Jake Kirkpatrick-C-TCU-This is the year that the Bears need to start working on replacing Kreutz and Kirkpatrick could be just the kind of guy that they look for to do that.  Kirkpatrick has the size and the track record to be a long time starter at the position.  The Bears would be wise to select him or another center in this draft.
Round Four, Pick 30 (127th Overall)-Marcus Gilchrist-CB/FS-Clemson-The nice thing about Gilchrist is that he would be able to flip over to play safety if the Bears would need it so he might be an attractive choice.  It seems that there are a few experts out there who seem to like what Gilchrist has to offer and think that he could be selected higher than the fourth round but with the Bears needing some depth at cornerback it would be nice if he was here when they make their pick in the fourth round.
Round Five, Pick 29 (160th Overall)-Doug Houge-LB-Syracuse-I have mocked Houge here in several mock drafts that I have done in the past and I stick with this pick because the Bears could use him badly.  Their outside linebacker position is in a state of flux and they may not have the horses there when all is said and done after the lockout is over.  Both Nick Roach and Pisa Tinoisamoa are not under contract at this time and that could leave a hole at the position and they will need to fill it in the draft.
Round 6, Pick 30 (195th Overall)-Zach Hurd-OG-Connecticut-The Bears need to find someone to be a long term answer for them at the guard spot that is currently being occupied by Roberto Garza.  Could they find that player in the sixth round of this year's draft?  That is a possibility but at the least they need someone that they could develop at the guard position and Hurd, whom some consider to be a sleeper, could be available and could be a promising and solid prospect.