It's been two weeks since the Vancouver Canucks ended the Chicago Blackhawks season, and since then my sadness has already passed, being replaced by optimism and excitement for next season. While the 2010-11 season wasn't as fun and more painful than the Stanley Cup season, there was still a lot to cheer and be happy about if you were a 'Hawks fan.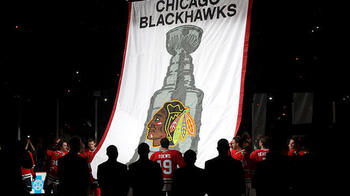 1. Banner Raising Tribute Video
My first favorite moment of the season has to be the banner raising ceremony. More specifically, the tribute video that was made for the ceremony. Everything in this video is perfect. From the images, the goals, the calls, and the music. EVERYTHING.
Very few videos bring tears to my eyes and chills every time I watch it. This was succeeds.
2. Jonathan Toew's 100th Career Goal
Toews brings the maturity and leadership to the 'Hawks even at a young age. You can't find a 'Hawk fan who doesn't love Toews. Toews continues to show he's one of the best players in the NHL.
When the 'Hawks came into the season with a less talented season, I wondered how Toews would adapt. He answered by having his best season yet. The 44 assists, 76 points, and +/- rating of 26 are all career highs.
In the midst of all this, Toews scored his 100th career. He is the 4th youngest to so, only behind Denis Savard, Bobby Hull, and Jeremy Roenick.
3. Corey Crawford's 3 Back-to-back-to-back Saves on Vancouver
I don't know if there was a more frustrating game of the season than game 7 against the Canucks. The 'Hawks were playing like crap and were constantly down 1-0. As each minute passed there was less and less hope that the 'Hawks would tie it.
After winning three straight games to just be in this game and then to possibly go out with this kind of terrible performance had me thinking "Maybe the 'Hawks don't deserve to win." After losing in the last game of the season, where a win would've clinched a playoff spot, the 'Hawks would have to prove to me they deserved to have a shot at a repeat.
There was truly only one player that proved that he should at least be able to go on, and that was Corey Crawford. He was amazing all season and postseason. He got robbed out of rookie of the year, and is my team MVP.
I could really go on forever about Crawford, but I'll let him to it himself.
4. Viktor Stalberg Hits All Three Posts and Doesn't Score
Viktor Stalberg, love him or hate him, you have to feel bad for him here. In a penalty shot attempt Stalberg rings the puck off all three goal posts and still somehow manages to not score.
You really can't get any closer to scoring.
5. Jonathan Toew's Game-Tying Goal in Game 7
No other goal in the  season made 'Hawk fans more elated than Jonathan Toew's on-the-knees, shorthanded goal to force an overtime in game seven against the Canucks. It came with  1:56 left in the third period. After it I was bombarded with hugs and high fives from friends, as well as the blasting of 'Chelsea Dagger.'
I don't know whether the goal is a statement of how clutch Toews is or the Canucks' inability to close out a series. (They're struggling to put away Nashville.)
My Favorite Picture of the Season-John Scott and Roberto Luongo
This picture is just plain hilarious and shows pretty well how much the 'Hawk players and fans like to mess with Luongo. A Blackhawk-Canuck rivalry is sure to be a good one for years to come.