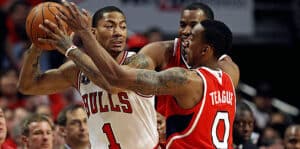 Chicago Bulls' head coach Tom Thibodeau made the defensive mad scientist decision to sit both of their starting front-court players and instead play Omer Asik and Taj Gibson.  Up until that point, the Atlanta Hawks were abusing the Bulls' defense with their pick-and-roll game.  With about 8:00 minutes remaining in the fourth quarter, Coach Thibs decided to use a defensive line-up by putting in Brewer, Gibson and Asik.  And they all chipped in to shut down the attack of Jeff Teague.
Brewer had a couple of key steals while Gibson and Asik played active and effective pick-and-roll defense.
And, of course, Derrick Rose chipped in by scoring 33 points and dishing out nine assists— with a very efficient all-around offensive game.
The Bulls won the game, 95-83, and take a 3-2 lead in their series with Atlanta.
In their seventh post-season victory, Derrick Rose's Bulls have now won the most playoff games since the 1997-98 Jordan/Championship Bulls team.
Game 6 will be played in Atlanta on Thursday night.