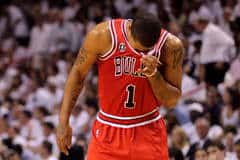 By: Bill Renje
All year long, we've watched Derrick Rose do whatever he wants, whenever he wants.  All year long, we've watched Rose drive to the basket at will, pull up for easy jumpers or knock down open threes when the defender over commits to stop the drive by playing back.  But no longer – both he and the Bulls have hit their ceiling in South Beach.  The air ball with the game on the line at the end of regulation kind of summed up the series – so close, yet so far away.
Rose has gone from looking like he's playing against high schoolers to looking like a newly hired, recent college grad sitting at the conference table in a corporate meeting room.  Not that it's his fault – he was out of gas late in the 4th after playing 32 straight minutes (get him a blow somewhere Thibs).  And he looked completely exasperated facing Lebron's 6 inch as well as 50 pound advantage while seeming bewildered with a lack of scoring options all around him.  Truth be told, this team has maxed out and overachieved; much in the same way that the 2000-01 Philadelphia 76ers did with their one dominant player, undersized MVP Allen Iverson, when they met their end against the LA Lakers who simply had better star players.
I love Rose's heart, will and desire.  But unless he can swap his 6'3 for MJ's 6'6, it's not going to matter much how early he gets in the gym over the summer.  Miami looks like they're not going anywhere for the next decade.  The Bulls are set-up to be the Milwaukee Bucks of the 1980s – 7 division titles in a row, 0 Finals appearances thanks largely to Boston's Original Big Three. 
Other thoughts from the series to this point:
Boozer plays D like he's playing left tackle for the Bears.  I've never seen an athletic big man so completely useless and atrocious on defense. 
The Taj Gibson highlight dunks in Game 1 seem like faded memories now.  Gibson has been a no-show since he entered the game early in the 2nd Quarter in Game.  The lasting image was him jawing at Chris Bosh as he defended him on the baseline.  Bosh promptly took Gibson to the hole, drew the foul, yapped back at Gibson on the way to the foul line.  Bosh went on to score 34 points and Gibson entered the witness protection program.
Have we seen enough of Kyle Korver yet?  The guy is just overmatched and overwhelmed at this level.
As for all the yapping by Heat fans.  Miami fans are typical Florida fans: they forget they have a team and don't show up until the team is a contender.  When they do show up, they're completely obnoxious.  Not that every city doesn't have obnoxious fans, but Florida fans suffer from an inferiority complex to all the Northern fans that fill their stadiums.  So when they have a chance to rub it in your face, they'll take full advantage.  I once had an air horn blown in my ear at a Buc-Bears game which caused me to forever root against the Bucs.
All in all, I don't even care as the memories of 6 titles are forever seared in the deepest recesses of my brain.  I just want Dallas to beat Miami.