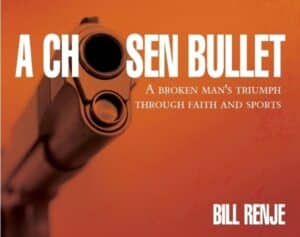 By: Bill Renje  
Here is a re-print of Chicago Trib sports columnist David Haugh's column on my story which appeared in today's Trib.  Additionally, here is the link to my interview on Chicago Tribune Live last night.  For more information or to order my book, please visit my website www.achosenbullet.com.  
David Haugh
In the Wake of the News
From his wheelchair in the Wrigley Field bleachers that special September day in 1989, Bill Renje exchanged thoughts and high-fives with Cubs fans.
For three hours or so, Renje wasn't an 18-year-old kid recently paralyzed from the chest down and frozen with fear about how he would fit in society as a quadriplegic. He was just another face in a crowd full of Chicago guys like him who rely on sports to escape real life, however briefly.
Never has a save at a Cubs game meant more.
"In a stadium, everybody's your peer and there are no socioeconomic barriers. Nobody cares if you're disabled or not," Renje, 39, said, tapping his wheelchair at an Orland Park eatery. "That day was the first time I felt accepted after I got shot. That was my springboard."
Nearly three months earlier, on June 17, Renje, a recent graduate of Andrew High School, drove to a drug supplier in Robbins to feed his addiction to crack cocaine. While driving away from a police raid of the place, Renje was shot from 5 feet away with a 9 mm bullet fired by an undercover officer through the driver's side window. The bullet ripped through Renje's neck, severed his spinal cord and deflated his right lung, where it remains.
As he gasped for air, Renje thought to himself, "Please, God, don't let me go out like this."
His shattered life was spared. But then the boy who grew up in a happy two-parent home in the southwest suburbs with two brothers and a baseball card collection had to live it.
And he vowed to live it differently.
Several weeks before venturing out to the Cubs game, Renje suffered an anxiety attack near the Rehabilitation Institute after feeling every stare as his father, Bill Sr., wheeled him outdoors for the first time. It was hard enough for a teenager to accept responsibility for making poor choices that led to life in a wheelchair with impairment in all four limbs. The gawking only made Renje's new reality more difficult.
"I just felt like a freak, everybody looking at me like I was a leper," recalled Renje, in town to promote his new book, "A Chosen Bullet." "So I told my dad to take me back, and I basically stayed inside and watched the Cubs until the day I went to Wrigley. I don't know how I would have gotten through that summer without having that to focus on every day."
There are people who love Chicago sports and people who need them. Renje is both. I know this firsthand from the hundreds of emails I have received since last fall, when Renje asked me to read his manuscript and offer advice.
His fertile mind produces such frequent emails that during the Bulls' recent playoff run, I politely asked him to stop hitting "SEND" after halftime so I could make deadline.
I found most fascinating why Renje's critiques never included referee-bashing, the go-to move for many fans.
"The older I got, the more I realized I put myself in the position I'm in, so I hate when fans blame the ref," Renje said. "It's like Scottie Pippen and (referee) Hue Hollins in the 1994 playoffs against the Knicks. If (Pippen) wouldn't have put himself in that position, he wouldn't have gotten the foul called on him."
With an encyclopedic knowledge of Chicago sporting events, Renje still references the mental toughness of Walter Payton, Mike Ditka and Michael Jordan the way he did years ago while relearning how to dress himself, drive and stay clean and sober.
In addition to his faith, it was the examples of those icons that drove Renje to earn a master's degree in journalism from Illinois. It was their collective inspiration he relied upon while playing on gold-medal-winning U.S. Paralympic wheelchair rugby teams in 1996 and 2000.
"It wasn't like I was sitting around rehab studying Ditka, Jordan and Payton," Renje said. "A lot of learning that you have to persevere was internalized, especially from Payton."
Renje's funniest example of persistence came shortly after the Bulls' 1992 title. He found himself near the WBBM-TV studios, where Jordan was taping a show. Renje and a rugby teammate tried to persuade a security guard to let them inside because they were dying. More impressed with their audacity than their story, the guard rolled them inside to watch and introduced them to Jordan.
"He was gracious," Renje said. "And I'm sure that 30 seconds was a career highlight for Michael too."
Whether it's a legend making history or a player struggling to make a roster, Renje sees a bit of himself in every athlete overcoming something. In every reaction to adversity in a game, he finds a parallel in his life.
I asked what that life would have been like if he hadn't been shot.
"It would have been one of unfulfilled prophecy," Renje said. "If I die tomorrow or when I'm 80, I want to look back and say, 'Man, I gave it all.' It's the only thing we can ask of our athletes, our teams, our kids — and ourselves."
The outlet fandom provided helped Renje cope with suddenly being a paralyzed teenager 22 years ago. Over time he believes it helped him become a better commercial real-estate broker, husband and father of three who soon will start a new job with Fellowship of Christian Athletes in Tampa, Fla.
Of all the victories Renje has rooted for on his road to recovery, nothing compares to his own.
"My message is seeing there are obstacles in life you struggle through, and there's something bigger," he said.
It is a message bound to make many feel like high-fiving the people next to them, whether they're in the bleachers or the boardroom.