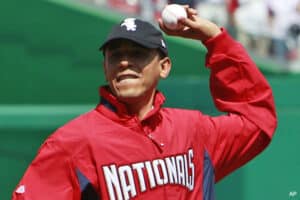 The Sox welcome in the Nasty Nats an ever improving team in the NL East. The Nats are 3rd in their Division and have been hovering around .500 all year. They are lead by big offseason acquisition Jayson Werth. Former Nat Adam Dunn will face his former team for the first time Edwin Jackson almost became a Nat last year in a deal that would have landed the Sox current DH Adam Dunn. The Nats will have a new manager as Jim Riggleman resigned when his contract was not extended, after getting the Nats over .500
Starting off the inter-league series Edwin Jackson will oppose Jordan Zimmerman. Zimmerman on the year is 5-6 with a 3.08 ERA, over his last 3 starts he is 2-0 with a 1.33 ERA. He has never faced the Sox. Jackson is 4-6 on the year with a 4.47 ERA and is coming off a loss in which he went 6.2 innings surrendering 4 ER.
The middle game features Chicagoan and Southpaw Tom Gorzelanny against John Danks. Danks has gone 3-0 over his last 3 after starting the season 0-8 over those last 3 wins he has compiled a 1.23 ERA and has never faced the Nats. Gorzelanny on the flip side is 0-3 with a 7.63 ERA over his last 3 starts and is 2-5 with a 4.53 ERA on the year. He is 0-1 with a 4.35 ERA in his career vs. the Sox
Closing out the series will be Journeyman Livan Hernandez and Phillip Humber. Humber is enjoying his best season to date going 7-3 with a 2.90 ERA, he is 3-0 with a 2.42 ERA over his last 3 and has a 9.00 ERA vs. the Nats. Hernandez is 4-8 on the year with a 3.97 ERA and is 1-1 with a 4.91 ERA over his last 3, in his career vs. the Sox he is 1-2 with a 6.88 ERA.