Two months ago, Carlos Pena couldn't hit water if he fell out of a boat. Now, he seems to be hitting everything.
How about an on-base percentage of .371, a slugging-percentage of .571, an OPS of .942 and 17 homeruns since early May? That's pretty good for a guy who was batting .159 on April 30th.
With the Cubs 15 games under .500 and Pena playing so well the last couple months, Cubs General Manager Jim Hendry will need to make a decision to keep or trade Pena if he continues to be hot. Pena signed a one year contract worth $10 million last December after a disappointing 2010 season in Tampa Bay where he had a batting average of .196 in 144 games.
If Hendry is going to move Pena, he should do it sooner than later in the event that he begins to slump again.
But would it make sense to move Pena?
Jeff Baker would be the Cubs' only first baseman if Pena is dealt and the team doesn't have any top talent at the first base position in the minor leagues. However, first baseman Bryan LaHair of the Cubs' triple-A affiliate in Iowa nearly hit for the cycle last Sunday and is having a nice season so far. The first baseman of the Cubs' double-A affiliate, Rebel Ridling, is also having a nice season but neither one of these players are on the Cubs' top 10 prospect list.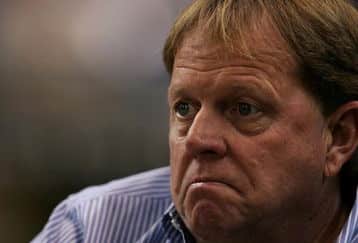 Another problem would be the type of players the Cubs get in return for Pena. They might be able to land a veteran and some minor leaguers in a deal that could resemble the Ted Lilly/Ryan Theriot trade from last year but a transaction like that certainly wouldn't stop Cubs fans from yawning. The issue here is that not many teams are going to give up premiere talent for a guy who's going into free agency anyway.
If Hendry plans to use good judgment, he should just keep Pena and let him ride out the rest of his contract. With the possibility of other players getting dealt, keeping Pena around would still give the Cubs a left handed bat with power and a positive figure on a team that's just trying to be competitive until the season ends. When the rosters expand later in the year, that's when the Cubs can bring up a minor league first baseman to gain some experience at the major league level.
The trade deadline is a month away and Pena has already been asked about the rumors of his potential departure…
"I'm a Cub." said Pena. "I don't imagine myself anywhere else. I don't even look that far ahead. In fact, I would look to win here. And that's the only way I would have it. What's going to happen in the future, I have no idea, but in my mind, I'm a Cub until the end."
The end might be near.