There's been many fan debates about whether the Chicago Blackhawks are a better team than they were last season after the major overhaul of their defense unit. There's no doubt that the 'Hawks became a tougher team with the addition of Andrew Brunette, Sean O'Donnell, and Daniel Carcillo, but does it make up for losing Brian Campbell and Troy Brouwer, two very skilled and prized 'Hawks?
It all depends on how you look at it. The 'Hawks did lose a lot when they traded both Brouwer and Campbell, but what Bowman gave he team in return was a good batch of role players. They're not going to outshine or produce as much as Patrick Sharp, Patrick Kane, Marian Hossa, or Jonathan Toews, but they will distract attention from them.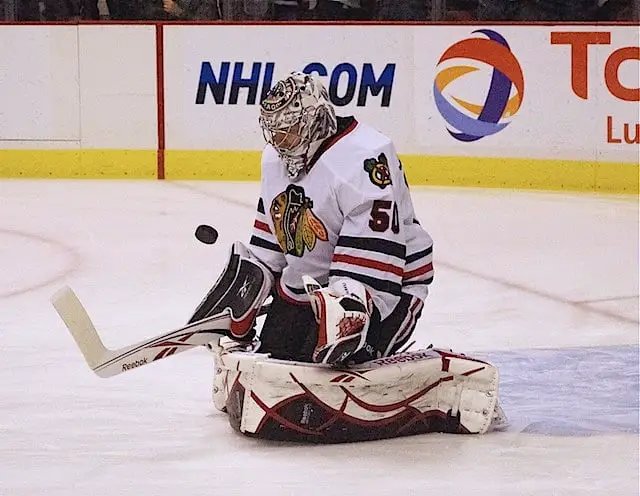 Role players affect every single sport because you can't have the best 12, or how many, players out there on the ice/field. Sport teams are like puzzles. Every one has a spot. They key is to pick out the right person for the open spot.
While you can only speculate how things will go(because no one really knows how well anyones' season will go), there is one very important aspect that a lot of fans are omitting:the performance of Corey Crawford.
The Blackhawk goaltender played absolutely stellar last season, and for the season to start off the best possible foot, Crawford is going to have to keep that stellar play.
The 'Hawks recently have gone through goaltenders like the Chicago Bears go through quarterbacks. And the 'Hawks have something I like to call "First String Syndrome." Every goaltender that starts the season as a starter always finds himself out-shined, out-loved, and, eventually, ousted by the guy behind him.
Just like the Bear fans hope Cutler can be that franchise guy, Blackhawk fans are praying that stability comes to the goaltender position.
Crawford could be that guy.  Chicago's defense last season was below average(to put nicely,) and still Crawford put up a 2.30 GAA, a .917 save percentage, and a 33-18-6 record all in his rookie season.
If there's anyway the 'Hawks, or any NHL team for that matter, is going to be successful it starts with their goaltender. Sure, the flashy goal-scores are nice but their play doesn't always impact the game because there are other players around them that can pick up the slack. Goaltenders' performance directly impacts every 82 games played.
Just look at the two teams that played in this year's Stanley Cup. Both Vancouver and Boston have elite goaltenders and were one, if not, the main reason they made it that far. If the 'Hawks are ever going to return to the Stanley Cup it's going to have to start at the goaltending position. A championship team only happens because they have an elite goaltender.
Crawford faced a lot more shots than he should have last season because of the weakness of the defense. The added toughness, veteran presence, and the likelihood of Ducan Keith going back to the play that earned him a Norris trophy(he's too good of a defenseman to not) should hopefully reduce that shot count, relieving a lot of pressure Crawford had to deal with for most of the season as well as the seven games in the playoffs.
If there should be any doubts surrounding the Blackhawks, it should be focused on Crawford because I think the 'Hawks have a better defense when it comes to players who can stop the player before he gets a shot off.
Their defense isn't perfect, and time will only tell, but the season will really go downhill if Crawford suffers from "First String Syndrome."
There's always Alexander Salak though.