Big 10 Football 2011 Predictions, Schedule, & Divisions
With the collegiate football season just around the corner, ChiCitySports is going to break down the BIG 10 conference. The Big Ten is different in many ways from last season. This season's changes include the addition of two divisions, the Legends and Leaders, the addition of Nebraska, and a conference championship game. BIG 10 fans have a lot to be excited about this fall.
It's going to be an interesting season alright. The BIG 10 now features 12 teams that are broken up into 2 divisions. When it was announced that the two divisions would be named the Legends and the Leaders many fans scoffed at the idea. So much so that they intend to re-evaluate the names at the conclusion of the 2011-2012 season.
Big Match-Ups
September 3rd : Northwestern @ Boston College — Minnesota @ USC
September 10th : Alabama @ Penn State — Notre Dame @ Michigan — Oregon State @ Wisconsin
September 17th : Ohio State @ Miami — Michigan State @ Notre Dame — Pittsburgh @ Iowa
September 24th : San Diego State @ Michigan
October 1st : Michigan State @ Ohio State — Nebraska @ Wisconsin — Northwestern @ Illinois
October 8th : Ohio State @ Nebraska
October 15th : Michigan @ Michigan State
October 22nd : Wisconsin @ Michigan State
October 29th : Michigan State @ Nebraska — Wisconsin @ Ohio State
November 5th : Michigan @ Iowa
November 12th : Nebraska @ Penn State — Michigan @ Iowa — Wisconsin @ Minnestoa
November 19th : Nebraska @ Michigan — Penn State @ Ohio State
November 25th : Iowa @ Nebraska
November 26th : Ohio State @ Michigan
December 3rd @ Lucas Oil Stadium in Indianapolis : Big Ten Championship — #1 Leaders vs #1 Legends
Predictions
LEADERS DIVISION
1.) Wisconsin
2.) Penn State
3.) Ohio State
4.) Illinois
5.) Indiana
6.) Purdue
LEGENDS DIVISION
1.) Nebraska
2.) Iowa
3.) Michigan State
4.) Michigan
5.) Northwestern
6.) Minnesota
Big 10 Most Valuable Player
Jared Crick, DT, Nebraska
Offensive Player of the Year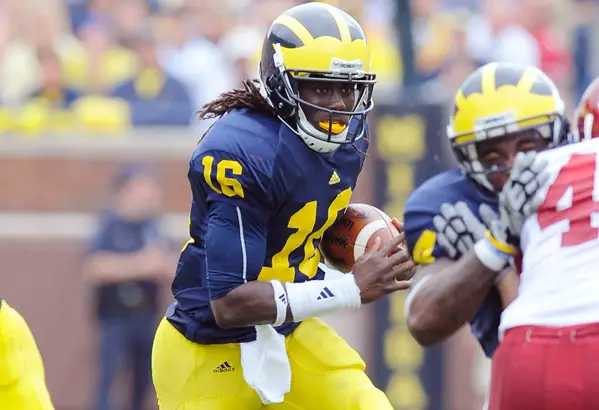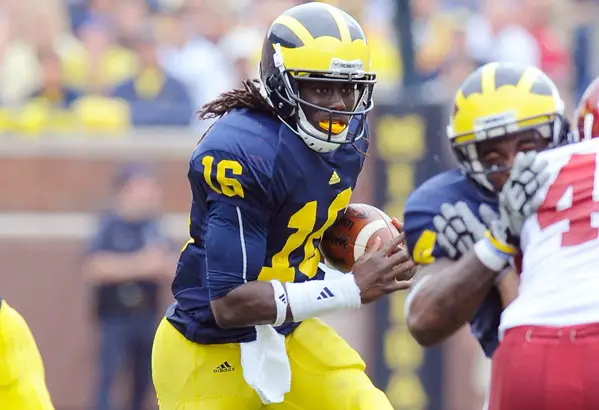 Denard Robinson, QB, Michigan
Defensive Player of the Year
Top 10 Incoming Freshman
Nebraska: RB Aaron Green
Ohio State: QB Braxton Miller
Wisconsin: LB Jake Keefer
Michigan State: LB Lawrence Thomas
Michigan: DL Brennan Beyer
Penn State: OL Donovan Smith
Iowa: RB Rodney Coe
Northwestern: WR Christian Jones
Purdue: TE Robert Kugler
Illinois: TE Jon Davis
Indiana: QB Tre Roberson
Minnesota: WR Ge'Shun Harris