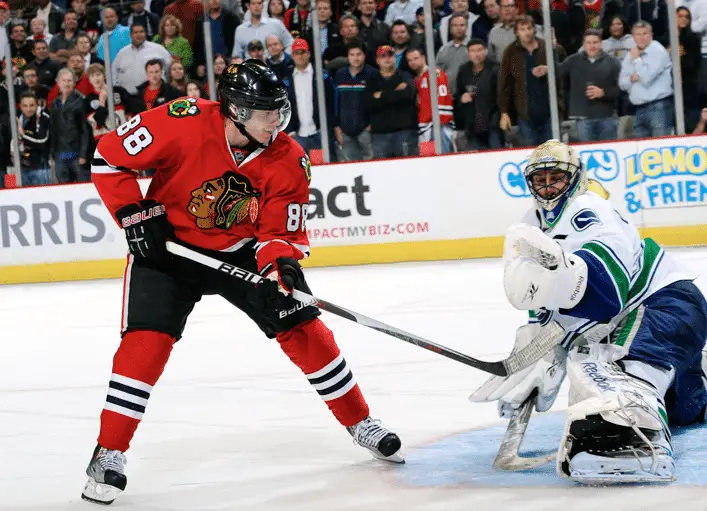 Mike Modano has officially called it quits retiring from the National Hockey League yesterday. Drafted 1st overall in the 1988 draft, he spent 21 seasons in the NHL, 19 of them with the Minnesota North Stars/Dallas Stars where he won his first and only Stanley Cup in 1999. Modano is the all-time US scoring champion and is considered to be the best American born hockey player, but now that he's retired, is Patrick Kane the next best US born hockey player?
Like Modano, Patrick Kane was also drafted #1 overall in the 2007 NHL draft by the Chicago Blackhawks. He grew up idolizing Mike Modano, played hockey outside imitating his moves, and always wanted to follow his footsteps in his path to the NHL. "My greatest memories of him are flying up and down the ice and scoring a lot of power-forward goals. He seemed to overpower defenses with his shot." Modano intimidated defenders with his shot similar to Kane who has some of the best hands in the league today.
Let's dive into statistics really quick and check out some notable comparisons between Mike Modano and Patrick Kane through their first 4 NHL seasons:
Mike Modano: 317 regular-season games played
Patrick Kane: 317 regular-season games played
Mike Modano: 123 goals – 186 assists – 309 points
Patrick Kane: 103 goals – 200 assists – 303 points
Mike Modano: 0.98 points per game
Patrick Kane: 0.96 points per game
As you can see, nearly identical numbers in every single category; however, something that Mike Modano didn't accomplish (or have the opportunity to) through his first 4 seasons that Patrick Kane has is a Calder Trophy, Olympic silver medal, and a Stanley Cup.
Kane's 0.96 points per game for his career is far better than any other current American born hockey player; next closest is Zach Parise and Bobby Ryan both at 0.81. Kane has also averaged more than a point per game for his career during the playoffs, including a remarkable 28 points during the historical 2010 season for the Blackhawks.
Will Patrick Kane surpass Mike Modano as the greatest American born hockey player? Statistics show he's on his way to be…