Questions and Answers: Blackhawks Season Opener Edition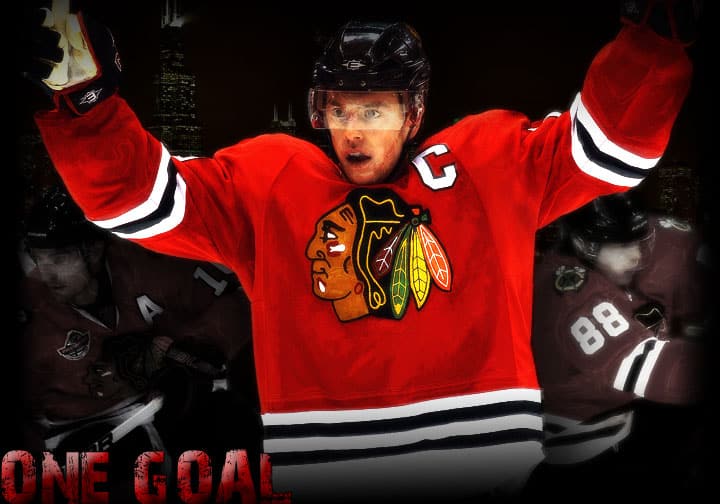 On the eve of the Blackhawks regular season opener, I think it is important to look back to the 7 pre-season games where the Blackhawks went 2 – 4 – 1.  What questions were answered and what questions were developed through this quick 7 game tryout for most.  Here are my top 3 questions that were answered and my top 3 questions that will be answered in the regular season.
Questions Answered:
Who will be the back up goaltender?
Salak and Emery battled it out for the back up job to returning starter Crawford.  The job was officially given to Emery when the Blackhawks signed him to a 1 year, 1 way contract worth $600,000.  While Salak outplayed Emery in the 120 minutes that each played in pre-season, this move seems to make the most sense for the Blackhawks.  If Salak was named the back up, the Blackhawks would have had to find another goalie for the AHL because of how thin they are at the position.
Salak has a very bright future ahead of him and it is important not to hurt his progress by letting him sit behind Crawford night in and night out.  One could estimate that Salak could expect to get around 60 games played in the AHL, while he would most likely only get around 20 games played in the NHL.  While Emery did not have the best pre-season, he played great for the Ducks towards the end of last year where he put up very solid numbers.  Emery will be the back up goalie and in the end it was the smartest decision the Blackhawks could have made.
Where do our prospects stand?
Stan Bowman had to deal fan favorites like Ladd, Byfuglien, Versteeg and others to get under the cap two years ago.  With very little to show for it at the NHL level, there was a lot to show for it in terms of prospects and draft picks (which would turn to prospects).  Through these cap clearing trades, the Blackhawks received the likes of Jeremy Morin, Kevin Hayes (An Atlanta 2010 1st round pick), Justin Holl (An Atlanta 2010 2nd round pick), Philippe Paradis, Chris DiDomenico, Phillip Danault (1st round pick via Washington for Brouwer), and Adam Clendening (An Atlanta/Winnipeg 2011 2nd round pick)…my point?
The Blackhawks have stockpiled talent at the lower level and it should pay dividends for years to come.  Players that disappointed this pre-season include Morin (still out with a concussion), Beach (still can't crack the NHL lineup), and Kruger (who was highly touted this offseason but didn't bring it to the pre-season).  More importantly, we saw our prospects take a NHL lineup Red Wings team to overtime before losing.  Jimmy Hayes showed that even at 6'6" he has wheels.  Brandon Pirri showed that he is developing patience and his scoring touch, and is almost ready for the NHL.  Dylan Olsen showed that he could be the real deal and play with snarl and poise.
Mark McNeil showed that we finally have some depth in our system at the center position.  Maybe the most pleasant surprise of the prospects was Brandon Saad who fell all the way to the second round of this year's draft.  Saad has earned himself a spot on the Blackhawks roster to start the season.    Hockeysfuture.com ranks the Blackhawks system at #11 in the NHL…after this pre-season, they may be changing a few grades.
Who will be the second line center?
Coming into the pre-season everyone wanted to know who our second line center would be.  Would Stan Bowman pull the trigger on a trade?  Would it be Sharp who played second line center during the Blackhawks cap run?  What about trying Frolik or Olesz at the second line center position?  Would Marcus Kruger or even Mark McNeil step up in a big way? The answer to all is a simple "no".
The Blackhawks second line center is also their best right winger…Patrick Kane.  Coming off of offseason wrist surgery, Coach Q told the media that they would be trying Kane at center.  Kane played three games in the pre-season at center and so far, so good.  Kane looks comfortable at the faceoff dot (over 50% in two of the games), looks great feeding the puck to Hossa, and looks like he can be adequate in the defensive zone.  Apparently the Blackhawks second line center was in the organization the whole time, and for now the answer is Patrick Kane.While several questions have been answered, there are many that have come up due to the pre-season.
Who will be Jonathan Toews' wingers?
Patrick Sharp looks to be the likely candidate on opening night and so does Brandon Saad…but does it stay this way the whole regular season?  When examining this question let's throw out the fact that Coach Q changes lines more often than Carcillo goes to the penalty box.  Is Saad going to stay for longer than the 9 games?  If Saad leaves, does a Stalberg, Smith, or Olesz step up?  Does Patrick Kane stay at second line center for the entire year?  Do the Blackhawks break up the playoff line of Bickell/Bolland/Frolik and use one of those wingers on the first line?  Only time will tell.
How will the new guys fit in?
This offseason the Blackhawks once again brought in many new guys.  Andrew Brunette, Daniel Carcillo, Jamal Mayers, Rostislav Olesz, Steve Montador, Sean O'Donnell, Sami Lepisto, and Ray Emery were all brought in from outside the organization.  Stan Bowman seemed to have targeted guys who are leaders, have grit but can play the game of hockey, and players that would accept 1 year deals.  Each guy has a question mark next to their name.
Will Andrew Brunette be Mr. Consistent and keep up with the youth and speed on the Blackhawks?  Will Daniel Carcillo stay out of the penalty box and help this team out?  Will Jamal Mayers improve the penalty kill and add some pop to the 4th line?  Will Rostislav Olesz finally be consistent and show why he was selected in the 1st round? Will Steve Montador prove he is worth his contract and help the penalty kill?  Will Sean O'Donnell/Sami Lepisto add depth to the defense and play their roles?  Finally, will Ray Emery play like he did in the pre-season or last year's regular season?
Patrick Kane?
Just saying the name "Patrick Kane" is a loaded question.  Will he stick it out as the Blackhawks' second line center?  Will he stay out of trouble off the ice?  Will he commit to playing defense like so many around him have?  Will he finally commit to the game of hockey and show some consistency?  This is a big year for Kane and there are a million questions that surround him.
Thanks for reading and feel free to add in some questions or answers of your own in the comments section below.
While we have your attention, please take a minute and swing by our Message Boards to discuss Chicago Sports with many other fans. https://chicitysports.com/forum