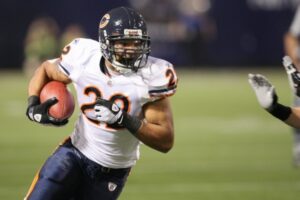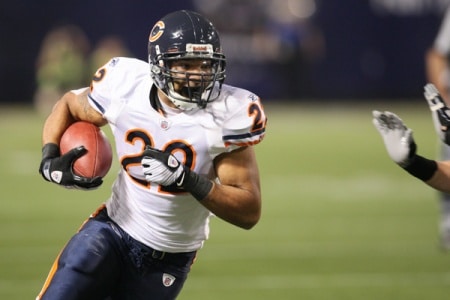 By Peggy Kusinski from NBC Chicago:
Matt Forte's 205-yard rushing effort against the Carolina Panthers would seem to make him a likely candidate for a pay raise, but Chicago Bears GM Jerry Angelo is in no rush to get anything done.
"Right now, our focus is on winning," Angelo said Monday when asked about the possibility of offering Forte to a new contract.
Forte's effort tied him for the second-most rushing yards in a single game in a Bears uniform and puts him in the company of Hall of Famers Walter Payton and Gale Sayers.
But Angelo says they anticipated the season Forte is having, and that's why they opened contract talks in the preseason.
"We anticipated him having a great season like he's having, that's why we did what we did. I don't want the message to get lost, we were trying to do something," Angelo said.
A source with knowledge of the contract negotiations who asked not to be named told NBCChicago Forte's price is going up despite what Angelo says.
And while Angelo says both sides did their best to get a deal done, sources say the two sides weren't even close.
Forte reportedly isn't asking for Chris Johnson- or Adrian Peterson-type money, not even D'Angelo Williams money. He just wants a fair value for his contributions to the Bears' offense, which now stands at more than 50 percent.
Forte said after the Bears loss in Detroit he is prepared to carry the load, but secretly those close to him say the Bears' inaction has Forte questioning how much they think of him.
How far apart are they? "I wouldn't be surprised if Matt was in a different uniform in 2012, and that would be the Bears' doings."
Angelo said the Bears wanted to close out contract discussions once the games counted, and talks did not come to a positive conclusion before coming to a halt.
"Ideally we wanted to do it before the season. I can't say we're exploring it right now. Right now we don't have to do anything." Angelo explained to reporters before the Bears Monday Night contest in Detroit. "We just have to play good football and eventually it will take care of itself."
Meanwhile Forte is averaging a career high 5.4 yards per carry with 324 rushing yards on 560 attempts, seventh best average in the NFL, 6th among running backs. His 634 yards from scrimmage is 2nd in the NFL.
"There really is nothing new. We did what I consider our very best," Angelo said. "I know they tried as well and we weren't able to get it accomplished."