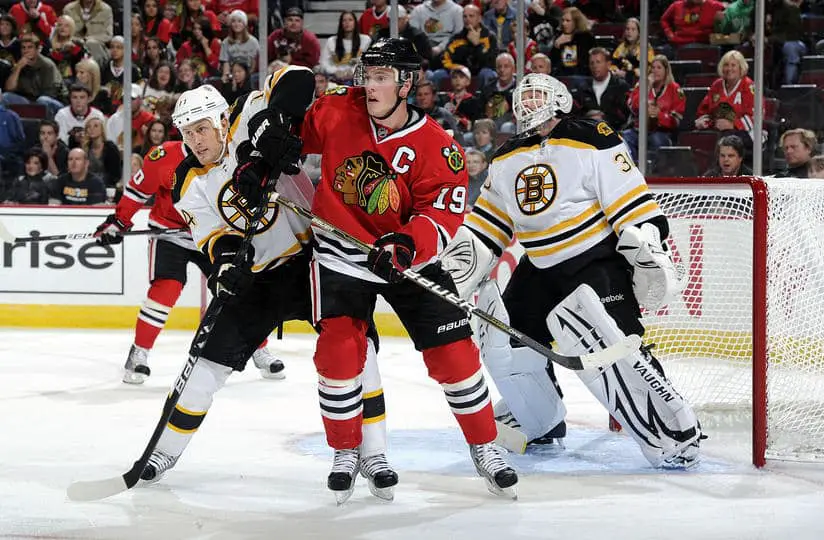 2010 Stanley Cup Champions vs 2011 Stanley Cup Champions. It was the match-up of the night on Saturday and even 65 minutes wasn't enough to decide the winner. Marian Hossa was listed as a scratch with a minor upper-body injury; unfortunate because he is a Boston Bruins killer with 6 goals and 38 points in 45 career games against them.
Bryan Bickell opened up the scoring late in the first period on a breakaway that beat Vezina Trophy winner Tim Thomas through the five hole.
24 seconds into the second period, Nathan Horton was called for a goaltender interference giving the Blackhawks their first power-play of the night. Brent Seabrook got caught pinching in from the blue-line giving the Bruins a 2-on-1 rush the other way set up by Rich Peverley finished off by a beautiful one-timer by Chris Kelly.
A little over a minute later, Patrick Kane danced around a couple of Bruin defenders and snapped a shot past Tim Thomas to put the Blackhawks back up by a goal.
Boston, however, came out firing in the third period. Nathan Horton scored his first goal of the season blasting a shot past Corey Crawford tying the game at 2.
Tyler Seguin put home the only shootout goal giving Boston their first road win the regular season.
NOTES:
Viktor Stalberg looked a little shaky off of his knee injury. Seems like he was playing with caution, not exactly going full speed.
Corey Crawford kept the Blackhawks in it once again: stopped 35 shots out of 37 thrown at him (94.6 save percentage)
Patrick Kane great again: won 47% of his faceoffs tonight, added another goal.
Power Play: 0-for-3 (0%)
Penalty Kill: 3-for-3 (100%)
WHAT'S NEXT?
Chicago Blackhawks visit the Phoenix Coyotes on Tuesday; puck drop at 9:00pm CT!