Bears 1st Round Pick Gabe Carimi Placed on Injured Reserve, Done for Season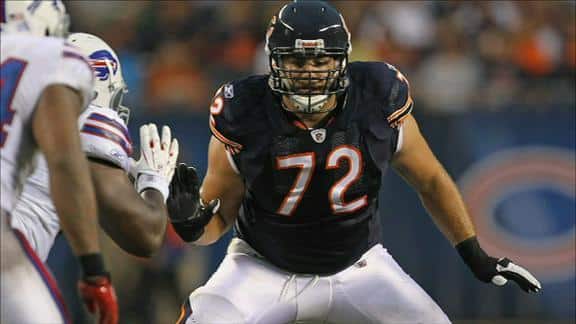 For those hoping they would see Gabe Carimi suit up again before the end of the season, we have some bad news. The Bears placed the 1st round pick on Injured Reserve today. This is disheartening to see but, luckily the Bears offensive line has been playing better since moving Lance Louis to Right Tackle to replace him.
This becomes more of an issue now that Chris Williams, starting LG, has also been placed on injured reserve with a wrist injury that required surgery after the Lions game. Hopefully the Bears will face this adversity, on a 4 game win streak, and keep the ball rolling.
Coach Lovie Smith used the word "disappointed" to describe the Bears' decision to place rookie right tackle Gabe Carimi on injured reserve Friday. Disheartened might be the best way to sum up Mike Tice's feelings.

The offensive line coach figured there was a chance Carimi might recover from the right knee subluxation he suffered during the Week 2 loss in New Orleans. In two regular-season appearances, Carimi showed why the Bears made him their first-round draft selection. Now he will have to prove himself all over again.

Carimi already had earned Tice's approval.

"I have no shame in telling you that he was playing the best football of the group before the injury," Tice said Friday. "When you lose a player that was your best lineman at the time, that's not a good thing.

"Gabe not being a part of this, first and foremost, you lose a mentality. He brings toughness. He brings work ethic. He's already a good pro as a rookie. We'll miss his intensity."

The timetable for Carimi's recovery remains unclear, but Tice refused to put the rookie in the same category as ex-Bear first-rounder Marc Colombo, a tackle who was placed on IR as a rookie after dislocating his left kneecap in 2002. Colombo, now starting at right tackle for the Dolphins, started seven games in three-plus injury-marred seasons with the Bears before being released.

"I actually like Colombo, and he went on to have a successful stint with the Cowboys," Tice noted. "When (Carimi) comes back, he'll be a better player because he won't be a rookie any more in terms of his
While we have your attention, please take a minute and swing by our Message Boards to discuss Chicago Sports with many other fans. https://chicitysports.com/forum