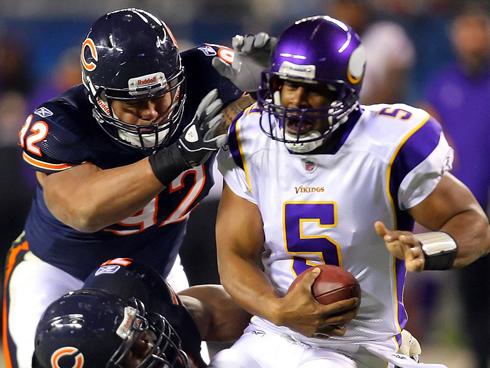 A Quarterback walks onto the Waiver Wire and…wait for it…he's the new savior for Da Beloved!
This week's "it boy" is Chicagoan Donovan McNabb.
IT'S NOT HAPPENING. Let me repeat–NO…IT'S NOT GOING TO HAPPEN.
There are many reasons, some of which I will name heretofore:
1. McNasty's numbers have the Purple Pride longing for someone with the consistency and upside of Rex Grossman.
2. We're not getting Donovan McNabb from 2004…we're getting his Daddy.
3. Despite the 3 picks, Caleb Hanie actually didn't look that bad…maybe if Martz realized that the Bears are something like 12-5 in the last three years (7-1 in the last two) when Matt Forte has 20 or more rushes, he might've realized that Caleb doesn't need to be Jay…he just needs to manage the game, anything beyond that is a bonus!
Mostly, we're not getting McNabb because we have no use for him now…he's washed up and we don't need a 4th QB.
I feel bad for him, I think he's been one of the most underrated and maligned QB's in the NFL in my life-time, he's always handled himself with class, but I think he's like the Sopranos…HE'S DONE!