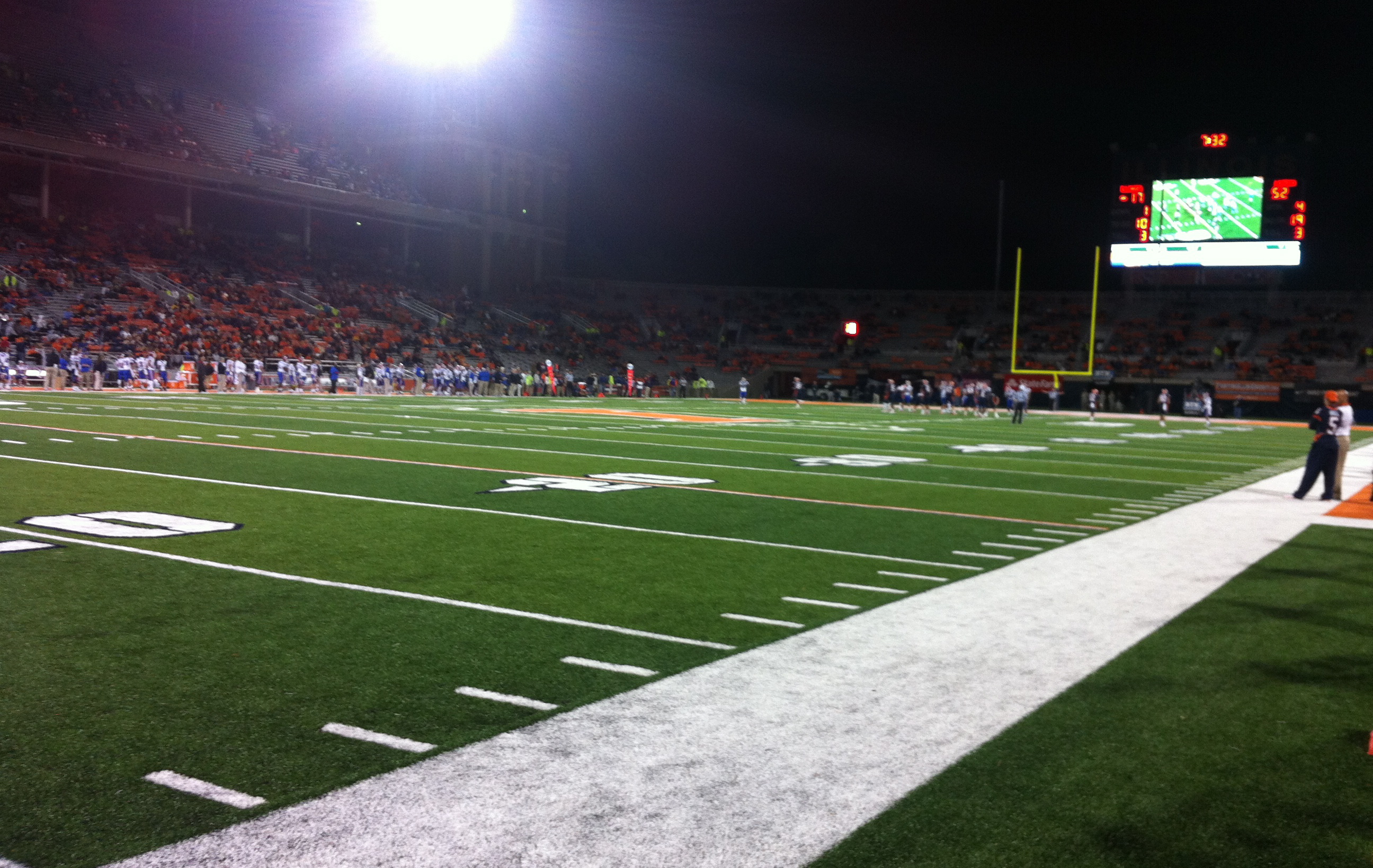 Well, it's the Christmas season, which, for most of us, means taking time to stop and reflect on what went wrong with our fantasy football teams (for me, it was my unwavering faith in Michael Vick returning to his 2010 form). In all seriousness, though, the end of the calendar year tends to usher in a certain amount of nostalgic musing, so let's take some time to look back on the stories that defined the 2012 Illinois year in sports.
Andrew Riley Wins National Titles In 100 Meters and 110 Meters Hurdles
Riley put together quite a career at Illinois – four-time NCAA Champion, twelve-time All-American, twelve-time Big Ten Champion, two-time Dike Eddleman Award Winner (Illinois Athlete of the Year), USTFCCCA National Track Athlete of the Year, and two-time Big Ten Track Athlete of the Year. Riley holds school records in the 60 meters, 60 meters hurdles, 100 meters, 110 meters hurdles, and 4X100 relay.
Men's Gymnastics Wins National Title
Look, I'm not going to pretend like I'm really into gymnastics, but anytime Illinois brings home a National Championship, it's impressive. Since 1958, Illinois has won just three team national titles – Men's Tennis in 2003, and Men's Gymnastics in 1989 and 2012. Head Coach Justin Spring, a key member of the 2008 Bronze-Medal winning U.S. Olympic Team and a former standout at Illinois, seems to be doing good things with the program.
Thomas Pieters Wins Golf National Title
Pieters became the second Illini in the last three years (Scott Langley in 2010) to take home the NCAA Individual Championship. The Illinois golf program, currently led by Mike Small, has produced outstanding talent over the years. The 2013 PGA Tour will feature five former Illini – Steve Stricker, D.A. Points, Luke Guthrie, Joe Affrunti, and Scott Langley.
Football Program Collapses Under Beckman
Late in 2011, Athletic Director Mike Thomas hired third-year Toledo Head Coach Tim Beckman to replace the recently fired Ron Zook. Most fans supported the decision to go a different direction, but questioned whether Beckman would be the answer to the Illini's woes. The 2012 Illini had significant talent returning, including most of the playmakers from the seventh best defense in the nation from just a season ago, but managed to win just two games and went winless in the Big Ten. Illinois lost by an average of 24.6 points/game, gave up an average of 32 points/game, and scored an average of 16.7 points/game. Things went so poorly for Beckman that many called for his removal after just one season, prompting Thomas to publicly declare Beckman as the Illini head coach moving forward. What's scary is that next season may be worse than the disastrous 2012 campaign, and, if there is improvement, it will be improvement in the way a 95 degree day is an improvement over a 100 degree day – still terrible, but a little more tolerable.
Weber Fired
Perhaps the biggest Illinois sports story of 2012 was the firing of nine-year head basketball coach and former National Coach of the Year Bruce Weber. After going 112-28 over his first four seasons with the Illini, including a trip to the National Championship game in 2005, Weber went 98-73 over his final five seasons, missing the NCAA Tournament three of those five years.
To be fair, Weber dealt with some bad luck throughout his tenure – a controversial decommitment from 5-star guard Eric Gordon, repeated alcohol-related problems in sharp-shooter Jamar Smith, a Chester Frazier broken hand just before the NCAA Tournament, and the drama that was McDonald's All-American Jereme Richmond. But Weber displayed a consistent unwillingness to adapt his system to his players, and, in his final season, lost 12 of his final 14 games. Illinois fans got something comparable to an Illinois detox from Weber this season. I always respected Weber for running a clean program and being, according to multiple accounts, a pretty good guy. But sometimes a change needs to happen, and for both Weber and the Illini, 2012 was the time.
Groce Hired
It was no secret that Mike Thomas' primary target for replacing Weber was VCU's Shaka Smart. But after a very public pursuit of the third-year head coach, Smart opted to stay in Richmond rather than take the reigns of the Illini program. Then stories started to break that Illinois had made contact with Butler's Brad Stevens, arguably the most sought-after coach in college basketball. I was actually in Arizona for Cubs' Spring Training while all this was going down, and I was just boarding a plane to come back to Illinois when a few reports began to break that Stevens was seriously considering the Illini's offer. When I landed in Peoria, I immediately checked my phone hoping to see a "Stevens agrees to 8 year, $20 million contract with Illinois" sort of story. No dice. But as I waited to get off the plane, a guy in the row behind me asked me if I knew the score of the North Carolina – Ohio game. It was toward the end of the second half, and it was shockingly close, so when we finally got off the plane, a big group of us gathered around a TV in the airport watching the Ohio Bobcats, led by Head Coach John Groce, battle North Carolina in the Sweet Sixteen. I was distracted, though, because I was too busy searching Twitter for the latest "Stevens to Illinois" rumors. And you know what? The guy Illinois needed – and the guy Illinois got – was right in front of me, coming within a free throw of knocking off the #1 seeded North Carolina Tar Heels and punching a ticket to the Elite Eight.
2013 Basketball Recruiting Class
Groce and Illinois came to terms on a contract in late March, and he got right to work. While many questioned Groce's ability to recruit high-level talent, especially in Chicago, he and his staff came in and landed the 13th best recruiting class in the nation. Highlighted by a commitment from Simeon SG Kendrick Nunn, Illinois will also add G Malcolm Hill, PF Austin Colbert, C Maverick Morgan, and PG Jaylon Tate. And with the Illini's impressive start to the season, Groce and his staff now have an appealing on-court product they can point to in their recruiting efforts. Speaking of that impressive start…
Illinois Basketball Off to 13-1 Start
After winning the Maui Invitational and taking down Gonzaga in Spokane, the Illini have become one of college basketball's biggest surprises. The buzz in Champaign is undeniable, especially after enduring such an abysmal football season. But as an Illinois fan, I'm programed to believe this team might just fall apart – after all, the 2011-2012 Illini started 15-3 and went on to lose 12 of their final 14, and, when you think about it, the biggest difference between last year's roster and this year's roster is that Meyers Leonard now plays for the Trail Blazers. But there is, of course, a completely new coaching staff leading the way, and it looks like they've brought with them a system capable of utilizing the current talent. Brandon Paul is having a First-Team All-American kind of year, and, if he can keep it up, Illinois has a chance to taste the Sweet Sixteen for the first time in seven seasons. I may look back and laugh at that last sentence…Brandon Paul an All-American?…Illinois in the Sweet Sixteen? But at some point, you've got to believe we'll be relevant again, and this season seems as good as any.
Hey There, 2013
One of the crazy things about life is that it's so easy to forget what's actually important. I know this is a sports blog, and I know this is an Illini sports column. But the truth is that most sports-related events of 2012 would have a tough time cracking any list of the most significant world-events of 2012. I love sports, I really do. But whenever something awful happens – like Jerry Sandusky's monstrous rampage or the incomprehensible school shooting in Newtown – life gets put into perspective for all of us. We stop thinking about the Bears' offensive futility, or the Bull's roster without DRose, or the collapse of Illini football, or the fact that Ian Stewart will be the Cubs' starting 3rd baseman. We think about victims – we think about the poor and the powerless, and about how we can make a difference in our broken world. Have a great 2013, folks. May it bring us a 4-win Illinois football season, or, more likely, a Cubs World Series.
For More Great Chicago Sports Content
Follow us on Twitter at @chicitysports23 for more great content. We appreciate you taking time to read our articles. To interact more with our community and keep up to date on the latest in Chicago sports news, JOIN OUR FREE FACEBOOK GROUP by CLICKING HERE