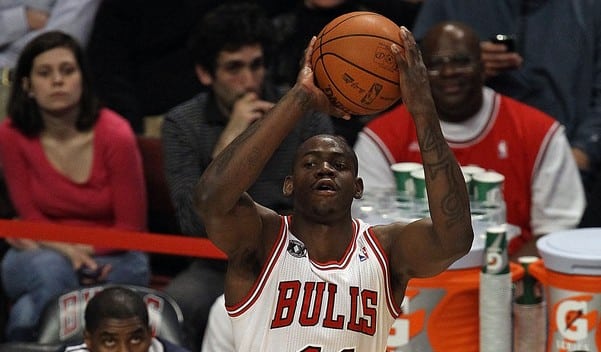 Early this season the Bulls "bench mob" has looked impressive. This Bulls team is built around superstar Derrick Rose, lock-down defense and the ability to tap into one of the deepest benches in the league. While back ups like Taj Gibson and C.J. Watson have been solid, Ronnie Brewer has stood out from the rest of the second unit. Though his statistics through 5 games (9.2 point per game, 3.4 rebounds per game, 0.8 steals per game) look comparable to his career averages of 9.4 PPG, 3.0 RPG, 1.4 SPG, his play has improved well beyond the numbers. He is taking the lead as the boss of the "bench mob" in his second year with the team and, in a season with an increased number of back-to-back games, will be a key to the team's success. With early season injuries to Rip Hamilton and C.J. Watson, expect his minutes to increase and his play to become even more noticeable around the league.
When Ronnie Brewer was drafted by the Utah Jazz in 2006, his scouting report claimed he was a solid off-the-dribble creator with excellent court vision and a long-armed defensive asset. But scouts believed his spot up shooting was average partially due to an awkward shooting form. His time in the NBA has proven him to be someone that uses his athleticism to get points near the hoop but he has indeed struggled to become a dependable shooter. More importantly, Brewer has been a rock-solid defender who can create turnovers and help guard the best wing player on the opposing team. The Bulls signed him before last season knowing they probably hadn't found their starting two-guard for the foreseeable future. Management believed he would become an important roll player to a team built around depth and defensive dominance. Ignoring his rookie season, Ronnie Brewer averaged a career low 22 minutes per game last season. Judging by his comments before this season began, he wants to have a bigger impact on the team. "I just want to play. It's doesn't matter what role I'm playing in. I feel like I've been working hard to try and get better, help my teammates out and try to have an increased role."
Early this season his play has shown improvement, especially on the offensive end. Last season he made 6 three pointers in 27 attempts. He wasn't confident behind the three-point arch and his lack of attempts showed it. In contrast he has already taken, and made, 4 attempts this season. Loul Deng took a similar leap between the 09-10 and 10-11 seasons where his 3 point accuracy remained virtually the same but his attempts rose from 83 to 333. A similar addition to Brewer's game will help round out his offensive skill set and force Thibodeau to increase his minutes. We won't hear "show me the hot sauce" from Stacey King after a streak of Brewer three-pointers anytime soon but Ronnie took the off season to improve his outside game and it shows. In addition, his ball handling skills have improved. He drove to the hoop awkwardly at times last year while mostly relying on a pass from someone else to setup his shot. He looks much more comfortable creating his own shot now which will prove necessary, especially if Watson or Hamilton miss significant time. Scouts believed his court vision was a plus coming out of college. His enhanced ability to control the ball at the pro level will increase his assists as well. In general, Brewer looks much more comfortable in season two of Thibodeau's system. His cuts to the basket are crisper, his shots don't look forced and he knows exactly where to be on the floor. The increased minutes he'll see this year will ensure his play only improves as the season continues. Ronnie Brewer might not contend for 6th Man of the Year in the 2011-2012 season but will be a standout amongst the "bench mob" and vital part of a championship contender.