Chicago Bears 2012 Training Camp Schedule in Bourbonnais, Illinois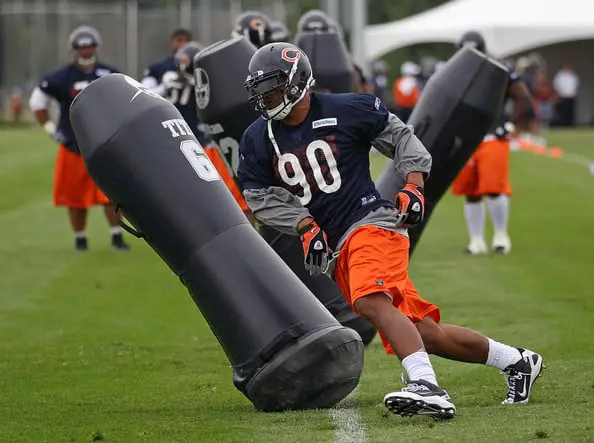 The Bears announced the 2012 training camp schedule. With this announcement, we are that much closer to the 2012 season. Bear fans are buzzing in our Bears forum ready for the season to start. Let us know in the comments if you plan on attending the camp!
Chicago Bears Huddle was quick in delivering the news! You can check the schedule out over there, or below.
JULY
Day                         Date                                    Practice Time (CT)
Thursday                 July 26                          2:30 pm practice (NO PADS)
Friday                      July 27                          2:30 pm practice (NO PADS)
Saturday                  July 28                                    7:00 pm practice
Sunday                    July 29                                    2:00 pm practice
Monday                   July 30                                         OFF DAY
Tuesday                  July 31                                    2:30 pm practice
AUGUST
Day                         Date                                    Practice Time (CT)
Wednesday             August 1                                 2:30 pm practice
Thursday                 August 2                                 2:00 pm practice
Friday                      August 3                     7:00 pm practice (Soldier Field)
Saturday                  August 4                                      OFF DAY
Sunday                    August 5                                 2:00 pm practice
Monday                   August 6                                 2:30 pm practice
Tuesday                  August 7                                 2:00 pm practice
Wednesday             August 8                             CLOSED TO PUBLIC
Thursday                 August 9                           BEARS vs. BRONCOS
Friday                      August 10                                    OFF DAY
Saturday                  August 11                               2:00 pm practice
Sunday                    August 12                               2:30 pm practice
Monday                   August 13                               7:00 pm practice
Tuesday                  August 14                               2:00 pm practice
Wednesday             August 15                                    OFF DAY
Thursday                 August 16                               2:00 pm practice
Friday                      August 17              BREAK CAMP / CLOSED TO PUBLIC
While we have your attention, please take a minute and swing by our Message Boards to discuss Chicago Sports with many other fans. https://chicitysports.com/forum