2012 Fantasy Football Player Rankings: The Top 250 Players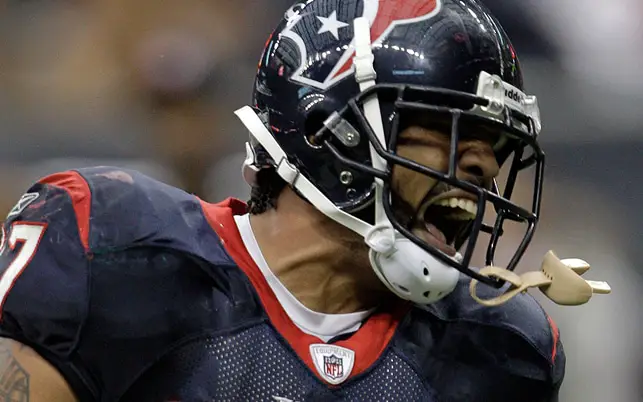 With fantasy football drafts for the 2012 season right around the corner, it's always nice to have a little help with rankings. AthlonSports released their list of the top 250 fantasy players for the upcoming season.
Here is a look at it, let us know your thoughts in the comments section at the bottom! Who is ranked too high? Who is too low?
| | | | | |
| --- | --- | --- | --- | --- |
| Rank | Player | Team | Pos | Bye |
| 1 | Arian Foster | HOU | RB | 8 |
| 2 | Ray Rice | BAL | RB | 8 |
| 3 | LeSean McCoy | PHI | RB | 7 |
| 4 | Aaron Rodgers | GB | QB | 10 |
| 5 | Calvin Johnson | DET | WR | 5 |
| 6 | Maurice Jones-Drew | JAC | RB | 6 |
| 7 | Tom Brady | NE | QB | 9 |
| 8 | Drew Brees | NO | QB | 6 |
| 9 | Chris Johnson | TEN | RB | 11 |
| 10 | Larry Fitzgerald | ARI | WR | 10 |
| 11 | Matthew Stafford | DET | QB | 5 |
| 12 | Matt Forte | CHI | RB | 6 |
| 13 | Ryan Mathews | SD | RB | 7 |
| 14 | Darren McFadden | OAK | RB | 5 |
| 15 | Marshawn Lynch | SEA | RB | 11 |
| 16 | Roddy White | ATL | WR | 7 |
| 17 | Jamaal Charles | KC | RB | 7 |
| 18 | Andre Johnson | HOU | WR | 8 |
| 19 | Cam Newton | CAR | QB | 6 |
| 20 | Frank Gore | SF | RB | 9 |
| 21 | Michael Turner | ATL | RB | 7 |
| 22 | Adrian Peterson | MIN | RB | 11 |
| 23 | Wes Welker | NE | WR | 9 |
| 24 | Greg Jennings | GB | WR | 10 |
| 25 | Rob Gronkowski | NE | TE | 9 |
| 26 | A.J. Green | CIN | WR | 8 |
| 27 | Hakeem Nicks | NYG | WR | 11 |
| 28 | Mike Wallace | PIT | WR | 4 |
| 29 | Jimmy Graham | NO | TE | 6 |
| 30 | Julio Jones | ATL | WR | 7 |
| 31 | Jordy Nelson | GB | WR | 10 |
| 32 | Victor Cruz | NYG | WR | 11 |
| 33 | Trent Richardson | CLE | RB | 10 |
| 34 | DeMarco Murray | DAL | RB | 5 |
| 35 | Brandon Marshall | CHI | WR | 6 |
| 36 | Steven Jackson | STL | RB | 9 |
| 37 | Dez Bryant | DAL | WR | 5 |
| 38 | Fred Jackson | BUF | RB | 8 |
| 39 | Marques Colston | NO | WR | 6 |
| 40 | Steve Smith | CAR | WR | 6 |
| 41 | Tony Romo | DAL | QB | 5 |
| 42 | Eli Manning | NYG | QB | 11 |
| 43 | Philip Rivers | SD | QB | 7 |
| 44 | Darren Sproles | NO | RB | 6 |
| 45 | Reggie Bush | MIA | RB | 7 |
| 46 | Ahmad Bradshaw | NYG | RB | 11 |
| 47 | Michael Vick | PHI | QB | 7 |
| 48 | Roy Helu | WAS | RB | 10 |
| 49 | Willis McGahee | DEN | RB | 7 |
| 50 | Jeremy Maclin | PHI | WR | 7 |
| 51 | Mark Ingram | NO | RB | 6 |
| 52 | Miles Austin | DAL | WR | 5 |
| 53 | Vincent Jackson | TB | WR | 5 |
| 54 | BenJarvus Green-Ellis | CIN | RB | 8 |
| 55 | Shonn Greene | NYJ | RB | 9 |
| 56 | Percy Harvin | MIN | WR | 11 |
| 57 | Dwayne Bowe | KC | WR | 7 |
| 58 | Beanie Wells | ARI | RB | 10 |
| 59 | Stevie Johnson | BUF | WR | 8 |
| 60 | Demaryius Thomas | DEN | WR | 7 |
| 61 | DeSean Jackson | PHI | WR | 7 |
| 62 | Brandon Lloyd | NE | WR | 9 |
| 63 | Antonio Gates | SD | TE | 7 |
| 64 | Isaac Redman | PIT | RB | 4 |
| 65 | Jonathan Stewart | CAR | RB | 6 |
| 66 | DeAngelo Williams | CAR | RB | 6 |
| 67 | Antonio Brown | PIT | WR | 4 |
| 68 | Doug Martin | TB | RB | 5 |
| 69 | Jahvid Best | DET | RB | 5 |
| 70 | Aaron Hernandez | NE | TE | 9 |
| 71 | Ben Roethlisberger | PIT | QB | 4 |
| 72 | Torrey Smith | BAL | WR | 8 |
| 73 | Peyton Manning | DEN | QB | 7 |
| 74 | Kenny Britt | TEN | WR | 11 |
| 75 | Donald Brown | IND | RB | 4 |
| 76 | Stevan Ridley | NE | RB | 9 |
| 77 | Ben Tate | HOU | RB | 8 |
| 78 | C.J. Spiller | BUF | RB | 8 |
| 79 | Vernon Davis | SF | TE | 9 |
| 80 | Jason Witten | DAL | TE | 5 |
| 81 | Matt Ryan | ATL | QB | 7 |
| 82 | Pierre Garcon | WAS | WR | 10 |
| 83 | Jermichael Finley | GB | TE | 10 |
| 84 | Denarius Moore | OAK | WR | 5 |
| 85 | Robert Meachem | SD | WR | 7 |
| 86 | Anquan Boldin | BAL | WR | 8 |
| 87 | Lance Moore | NO | WR | 6 |
| 88 | James Starks | GB | RB | 10 |
| 89 | Toby Gerhart | MIN | RB | 11 |
| 90 | Peyton Hillis | KC | RB | 7 |
| 91 | David Wilson | NYG | RB | 11 |
| 92 | Brandon Pettigrew | DET | TE | 5 |
| 93 | Michael Bush | CHI | RB | 6 |
| 94 | Matt Schaub | HOU | QB | 8 |
| 95 | 49ers | SF | DST | 9 |
| 96 | Justin Blackmon | JAC | WR | 6 |
| 97 | Sidney Rice | SEA | WR | 11 |
| 98 | Reggie Wayne | IND | WR | 4 |
| 99 | Eric Decker | DEN | WR | 7 |
| 100 | LeGarrette Blount | TB | RB | 5 |
| 101 | Jay Cutler | CHI | QB | 6 |
| 102 | Josh Freeman | TB | QB | 5 |
| 103 | Texans | HOU | DST | 8 |
| 104 | Carson Palmer | OAK | QB | 5 |
| 105 | Darrius Heyward-Bey | OAK | WR | 5 |
| 106 | Fred Davis | WAS | TE | 10 |
| 107 | Steelers | PIT | DST | 4 |
| 108 | Santonio Holmes | NYJ | WR | 9 |
| 109 | Michael Crabtree | SF | WR | 9 |
| 110 | Robert Griffin III | WAS | QB | 10 |
| 111 | Jason Pierre-Paul | NYG | DL | 11 |
| 112 | Santana Moss | WAS | WR | 10 |
| 113 | Tony Gonzalez | ATL | TE | 7 |
| 114 | Eagles | PHI | DST | 7 |
| 115 | Felix Jones | DAL | RB | 5 |
| 116 | Bernard Scott | CIN | RB | 8 |
| 117 | Mikel Leshoure | DET | RB | 5 |
| 118 | Jared Allen | MIN | DL | 11 |
| 119 | Ryan Williams | ARI | RB | 10 |
| 120 | Greg Little | CLE | WR | 10 |
| 121 | Nate Washington | TEN | WR | 11 |
| 122 | Vincent Brown | SD | WR | 7 |
| 123 | Titus Young | DET | WR | 5 |
| 124 | Doug Baldwin | SEA | WR | 11 |
| 125 | Mike Williams | TB | WR | 5 |
| 126 | Jared Cook | TEN | TE | 11 |
| 127 | Patrick Willis | SF | LB | 9 |
| 128 | Owen Daniels | HOU | TE | 8 |
| 129 | Brent Celek | PHI | TE | 7 |
| 130 | Joe Flacco | BAL | QB | 8 |
| 131 | Andy Dalton | CIN | QB | 8 |
| 132 | Justin Tuck | NYG | DL | 11 |
| 133 | Trent Cole | PHI | DL | 7 |
| 134 | Daniel Thomas | MIA | RB | 7 |
| 135 | Pierre Thomas | NO | RB | 6 |
| 136 | Mike Tolbert | CAR | RB | 6 |
| 137 | Desmond Bishop | GB | LB | 10 |
| 138 | Julius Peppers | CHI | DL | 6 |
| 139 | James Laurinaitis | STL | LB | 9 |
| 140 | Bears | CHI | DST | 6 |
| 141 | Eric Berry | KC | DB | 7 |
| 142 | Shane Vereen | NE | RB | 9 |
| 143 | Dustin Keller | NYJ | TE | 9 |
| 144 | Mario Williams | BUF | DL | 8 |
| 145 | Derrick Johnson | KC | LB | 7 |
| 146 | Rashard Mendenhall | PIT | RB | 4 |
| 147 | Tim Hightower | WAS | RB | 10 |
| 148 | Jabaal Sheard | CLE | DL | 10 |
| 149 | Rashad Jennings | JAC | RB | 6 |
| 150 | Jermaine Gresham | CIN | TE | 8 |
| 151 | NaVorro Bowman | SF | LB | 9 |
| 152 | Cedric Benson | FA | RB | |
| 153 | Isaiah Pead | STL | RB | 9 |
| 154 | Tyvon Branch | OAK | DB | 5 |
| 155 | Ravens | BAL | DST | 8 |
| 156 | Greg Olsen | CAR | TE | 6 |
| 157 | Mike Goodson | OAK | RB | 5 |
| 158 | Calais Campbell | ARI | DL | 10 |
| 159 | Javon Ringer | TEN | RB | 11 |
| 160 | Danny Amendola | STL | WR | 9 |
| 161 | Malcom Floyd | SD | WR | 7 |
| 162 | D'Qwell Jackson | CLE | LB | 10 |
| 163 | Daryl Washington | ARI | LB | 10 |
| 164 | James Jones | GB | WR | 10 |
| 165 | Deion Branch | NE | WR | 9 |
| 166 | Patrick Chung | NE | DB | 9 |
| 167 | Jacquizz Rodgers | ATL | RB | 7 |
| 168 | Martellus Bennett | NYG | TE | 11 |
| 169 | Sean Weatherspoon | ATL | LB | 7 |
| 170 | LaMichael James | SF | RB | 9 |
| 171 | Emmanuel Sanders | PIT | WR | 4 |
| 172 | Leonard Hankerson | WAS | WR | 10 |
| 173 | Charles Johnson | CAR | DL | 6 |
| 174 | Elvis Dumervil | DEN | DL | 7 |
| 175 | Jason Babin | PHI | DL | 7 |
| 176 | Brandon Jacobs | SF | RB | 9 |
| 177 | Devery Henderson | NO | WR | 6 |
| 178 | Montario Hardesty | CLE | RB | 10 |
| 179 | Le'Ron McClain | SD | RB | 7 |
| 180 | Dexter McCluster | KC | RB | 7 |
| 181 | Michael Floyd | ARI | WR | 10 |
| 182 | Bernard Pierce | BAL | RB | 8 |
| 183 | Curtis Lofton | NO | LB | 6 |
| 184 | Coby Fleener | IND | TE | 4 |
| 185 | Kendall Wright | TEN | WR | 11 |
| 186 | Kendall Hunter | SF | RB | 9 |
| 187 | George Wilson | BUF | DB | 8 |
| 188 | Laurent Robinson | JAC | WR | 6 |
| 189 | Cliff Avril | DET | DL | 5 |
| 190 | Mario Manningham | SF | WR | 9 |
| 191 | Sam Bradford | STL | QB | 9 |
| 192 | Jets | NYJ | DST | 9 |
| 193 | Stephen Tulloch | DET | LB | 5 |
| 194 | Jerod Mayo | NE | LB | 9 |
| 195 | Ryan Fitzpatrick | BUF | QB | 8 |
| 196 | Chris Long | STL | DL | 9 |
| 197 | Rueben Randle | NYG | WR | 11 |
| 198 | Eric Weddle | SD | DB | 7 |
| 199 | Randy Moss | SF | WR | 9 |
| 200 | Colin McCarthy | TEN | LB | 11 |
| 201 | Paul Posluszny | JAC | LB | 6 |
| 202 | Pat Angerer | IND | LB | 4 |
| 203 | Plaxico Burress | FA | WR | |
| 204 | Kam Chancellor | SEA | DB | 11 |
| 205 | Brandon Stokley | DEN | WR | 7 |
| 206 | Earl Bennett | CHI | WR | 6 |
| 207 | Ray Lewis | BAL | LB | 8 |
| 208 | Brian Urlacher | CHI | LB | 6 |
| 209 | Alex Smith | SF | QB | 9 |
| 210 | Jacob Tamme | DEN | TE | 7 |
| 211 | Kyle Rudolph | MIN | TE | 11 |
| 212 | Seahawks | SEA | DST | 11 |
| 213 | Bengals | CIN | DST | 8 |
| 214 | J.J. Watt | HOU | DL | 8 |
| 215 | Heath Miller | PIT | TE | 4 |
| 216 | Mark Sanchez | NYJ | QB | 9 |
| 217 | Jason Snelling | ATL | RB | 7 |
| 218 | Jon Baldwin | KC | WR | 7 |
| 219 | Josh Morgan | WAS | WR | 10 |
| 220 | Kevin Walter | HOU | WR | 8 |
| 221 | Randall Cobb | GB | WR | 10 |
| 222 | Austin Collie | IND | WR | 4 |
| 223 | LaRon Landry | NYJ | DB | 9 |
| 224 | Sean Lee | DAL | LB | 5 |
| 225 | Charles Tillman | CHI | DB | 6 |
| 226 | Steve Breaston | KC | WR | 7 |
| 227 | Andre Roberts | ARI | WR | 10 |
| 228 | Jacoby Jones | BAL | WR | 8 |
| 229 | Tony Moeaki | KC | TE | 7 |
| 230 | Giants | NYG | DST | 11 |
| 231 | Haloti Ngata | BAL | DL | 8 |
| 232 | Aldon Smith | SF | LB/DL | 9 |
| 233 | Osi Umenyiora | NYG | DL | 11 |
| 234 | Jacoby Ford | OAK | WR | 5 |
| 235 | Packers | GB | DST | 10 |
| 236 | Stephen Gostkowski | NE | K | 9 |
| 237 | Mason Crosby | GB | K | 10 |
| 238 | Luke Kuechly | CAR | LB | 6 |
| 239 | David Akers | SF | K | 9 |
| 240 | Dan Bailey | DAL | K | 5 |
| 241 | Sebastian Janikowski | OAK | K | 5 |
| 242 | Andrew Luck | IND | QB | 4 |
| 243 | Broncos | DEN | DST | 7 |
| 244 | Jason Avant | PHI | WR | 7 |
| 245 | Stephen Hill | NYJ | WR | 9 |
| 246 | Davone Bess | MIA | WR | 7 |
| 247 | Brian Hartline | MIA | WR | 7 |
| 248 | Andre Caldwell | DEN | WR | 7 |
| 249 | Eddie Royal | SD | WR | 7 |
| 250 | Steve Smith | STL | WR | 9 |
While we have your attention, please take a minute and swing by our Message Boards to discuss Chicago Sports with many other fans. https://chicitysports.com/forum