More than in any sport, champions in baseball have their differences from year to year in the way each team is constructed. However, the one thing mostly all of them have in common is that they not only have good bullpens, but ones where everyone knows their roles.
The 2012 White Sox not only have yet to find out who has what roles in that bullpen, but they haven't had a chance to. Two weeks ago, the White Sox bullpen was filled with names that even some of the most die-hard Sox fans have ever heard of. Guys like Brian Omogrosso, Jhan Marinez and Donnie Veal were called upon to get tough outs, while Sox fans everywhere collectively held their breath.
Now, however, moves have been made (Brett Myers), health has returned (Jesse Crain) and what once looked like the team's biggest weakness has a chance to become a real strength the last two months of the season.
Myers and Crain coming into the fold on Saturday was a big plus for the White Sox, as they won't have to continue to add rookie call-ups at a record pace and they essentially added two guys with experience. However, the biggest positive out of all of this is that finally, this bullpen can actually get a chance to settle in and take shape. For the first time all season long, Robin Ventura can set roles for each bullpen arm.
Think about it. Hector Santiago started the season as the closer, only to be supplanted by Matt Thornton for a brief amount of time before Addison Reed fully took over the job in early May (Chris Sale too for a day). Right around then is also when Jesse Crain went on the disabled list for the first time, forcing Nate Jones into pitching in the later innings (which he's proven he probably is not ready to handle). Guys like Will Ohman and Zach Stewart failed and were pushed out, so numerous guys such as Brian Bruney, Dylan Axelrod, Omogrosso, Marinez, Veal and Leyson Septimo were used in spots to figure out how to replace them and Crain, who went on the disabled list again.
I don't know about you, but that seems like a lot of moving parts to me.
With Myers and Crain not only being pennant run additions, but coming at the same time, it allows Ventura to now determine the order of who is going to be used where in the bullpen. Whether you think Myers should close or not, it's Addison Reed's job for now, and that's probably a good thing considering it is one role that's already been pre-determined. Crain looks to be the seventh inning guy, Myers the eighth and Matt Thornton whenever a few lefties are due up within those two innings. Leyson Septimo and Nate Jones are the guys to pitch earlier in the game after a starter struggles or later in case of a blowout, while Hector Santiago is the long man in the event the starter can't get past the fourth inning.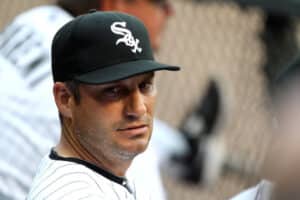 It's the case with nearly every playoff baseball team, and now this 2012 White Sox team has its first chance to see if the bullpen can perform in a similar way. White Sox fans can certainly remember the 2005 squad, where aside from having to switch closers in May because of an ineffective Shingo Takatsu and in September because of an injury to Dustin Hermanson, they had a bullpen full of guys who knew their roles and preformed them to near perfection.
I'm not suggesting that this bullpen can or will be anything close to 2005's, but the fact is that no one really knows yet. Now, we all have a chance to find out what this bullpen really is, and at least on the surface, it looks like it may actually have some promise.