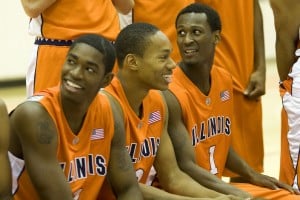 *This is part three of a six part series previewing each Big Ten team.
Part one, Monday: Nebraska, Penn State
Part two, Tuesday: Northwestern, Purdue
Part three, Wednesday: Iowa, Illinois
Part four, Thursday: Minnesota, Wisconsin
Part five, Friday: Michigan State, Michigan
Part six, Saturday: Ohio State, Indiana
8. Iowa
To call last year an up and down season for the Iowa Hawkeyes would be an understatement.
Iowa entered last season with low expectations and for the most part failed to exceed those.  The Hawkeyes only managed an 18-17 overall record and an 8-10 Big Ten record, but oddly knocked off Michigan, Indiana, and swept Wisconsin.
What is the root of this inconsistency? Coach Fran McCaffery thinks the team's defense was the culprit.
"We didn't defend last year, we didn't defend consistently," McCaffery said. "We defended some nights, but we gave up high numbers from three, from the field, and the players in this league are just too good to play the way we played last year defensively."
The Hawkeyes didn't have much size last season. Enter 6'11" center Adam Woodbury, the 39th ranked prospect in the 2013 class. Hailing from East High School in Sioux City, IA, Woodbury will provide immediate impact on both ends of the floor.
"What he is, is a guy that really understands how to play," McCaffery said. "You can run your offense through him, even if he's not getting 25, his best attribute offensively is passing. He will throw it in there, skip it to the weak side, we have a number of three point shooters, but he is a presence physically. He closes up the lane, holds his position, bangs people."
Woodbury, along with fellow ESPN top 100 recruit point guard Mike Gesell, will join an Iowa team that is returning three starters, including four of their top five scorers from last season.
Losing top scorer and leader Matt Gatens will hurt, but the Hawkeyes will benefit from the continued improvement from junior guard-forward Roy Devyn Marble.
Marble improved in basically every aspect of the game, upping his scoring from 5.7 to 11.5 ppg, his passing from 1.3 to 3.6 apg, his free throw percentage from 53 to 72%, and doubled his steals per game to 1.5.
His ability to bring up the ball, hit the pull up three, facilitate the offense, and utilize his length on the defensive end is irreplaceable. With Gatens no longer demanding the attention of opposing defenses, Marble will have to evolve his game even more as he assumes the role of the go-to guy.
The Hawkeyes hope for another big season out of sophomore Aaron White, who impressed as a freshman averaging 11 ppg shooting 50% from the field in only 24 minutes per game.
Like Marble, White's energy on both ends was a major factor for the team. He averaged close to a block and a steal per game.
He will see time at both forward spots and should play a pivotal role in the improvement of Iowa's defense.
With the continued development of their returning players and the addition of a strong recruiting class, Iowa stands to improve this upcoming season.
In such an ultra-competitive conference, a slight improvement may not be enough for the Hawkeyes to earn an NCAA tournament bid for the first time since 2006.
A .500 finish in the Big Ten would be a fantastic feat for coach McCaffery.
7. Illinois
*Look out for my coverage of the Fighting Illini basketball team all season long right here on Chi City Sports
It's a new season for the Illinois Fighting Illini with a new face at the helm.
To the dismay of some Illini fans, it's not VCU's Shaka Smart or Butler's Brad Stevens, but Ohio's John Groce.
After working under the tutelage of Ohio State's Thad Matta for nine years, Groce got the head coaching gig at Ohio and didn't disappoint.
Last season Groce led a 27-7 Ohio team into the NCAA tournament as a 13-seed, where they upset 4-seed Michigan and 12-seed South Florida en route to a Sweet Sixteen run.
Ohio finally met defeat at the hands of 1-seed North Carolina, who they pushed to the brink of overtime.
Groce is well aware that the Big Ten is a completely different monster than the Mid-American Conference, but he's prepared for the learning process.
"I think the experience that I had at Ohio helps a lot as well," Groce said. "To be honest, going through that and understanding that it does take time, that the learning curve right now when I'm dealing with our 14 players from the standpoint of what they are trying to learn and what we're wanting to do, it's like having 14 freshmen, 14 new guys."
Groce takes over for an Illini team that finished third to last in the Big Ten with a 17-15 overall record and a 6-12 Big Ten record.
With the loss of NBA lottery pick center Meyers Leonard and with scarce additions to the roster, the Fighting Illini will have to make adjustments in house to return to their winning culture.
The Illini return four starters, including seniors Brandon Paul and D.J. Richardson.
Paul led the Fighting Illini in scoring (14.7 ppg), passing (2.9 apg), and steals (1.4). Paul will be expected to play major minutes in both backcourt positions with sophomore Tracy Abrams as the team's only true point guard on the roster.
Paul is confident he will excel playing increased time at point guard this season.
"I've always kind of based myself as a combo guard," Paul said. "I can do the 1 and 2 and I can even do the 3, but this year I'm more focused on the 1 and 2. I see myself as scoring guard, but at the same time, I have a lot of good court vision and I could give other people opportunities where they have good shots."
Fellow senior D.J. Richardson is the Illini's second highest returning scorer.
Richardson led the Big Ten in three pointers made per game with 2.2 last season.
Richardson has a rep for playing tough on the defensive end and was the source of the Illini's energy at both ends of the floor. Illinois will need Richardson to expand his game on the offensive end by putting the ball on the floor and driving to the basket.
Richardson knows the team's success is contingent on the play and leadership of the seniors.
"It's up to me and Brandon [Paul] to have a consistent year and not let the fans down," Richardson said. "At the same time we have to lead and show the young guys that we could have a good year."
The sophomores will be huge for the Illini.
Point guard Tracy Abrams, guard-forward Myke Henry, forward Mike Shaw, and center Nnanna Egwu will all have increased roles this season after getting a year under their belt to learn the college game.
The group made up a strong recruiting class for Illinois last season that has yet to meet its potential.
Egwu has some big shoes to fill being called upon to replace the bulk of Leonard's production.
Even though Egwu only averaged 9.8 minutes per game last season, he's impressed in practices and put up 14 points and six rebounds in their scrimmage game.
Joining Egwu in the front court will be senior Tyler Griffey, with Coastal Carolina transfer Sam McLaurin coming off the bench.
Griffey averaged 4.9 points and 3.3 rebounds per game as a starter for the Illini last season.
His ability to stretch the floor as a big has been valuable for the Illini, but he will be expected to do more work on the boards if he wants to keep his starting job.
McLaurin will join the Fighting Illini as a graduate student after averaging 10 points and 7.5 rebounds per game shooting 65% from the field last season with the Chanticleers.
His ability to scrap inside and his work on the glass should earn him minutes and maybe even a starting role.
It will take time and effort, but as Groce continues to implement his system and collect recruits, the Fighting Illini will slowly progress towards their glory days.
Unlike past seasons for Illinois, there aren't lofty expectations for this season.
Regardless, Paul is out to prove people wrong.
"I think we kind of have a sense of a clean slate," Paul said. "Everyone is starting new. We got a new coaching staff that is looking to do big things this year. We're not looking to rebuild or anything like that, we're looking to surprise some people in the Big Ten."
Let the John Groce era begin.