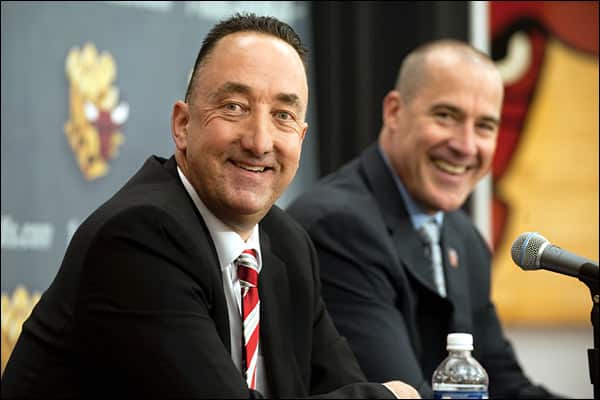 I'll preface this exercise with this: these trade ideas don't stem from rumors or reports. Just pure speculation on my part. My rationale is this — with the Bulls having limited salary cap flexibility for the next three seasons, their best chance to tweak their roster and loosen up some hefty salaries is to pull some in-season trades off as opposed to hoping they can land role players for the veteran's minimum and somehow score homeruns in the draft. I've comprised three trades that will quickly reshape the Bulls roster, while freeing up cap space now and going forward, land draft picks and young, controllable players.
Trade #1
Link here on NBA Trade Machine
Chicago Bulls acquire
SG/G Tyreek Evans
SF Francisco Garcia
PF Thomas Robinson
Protected first-round selection for 2013 (Top 8 protected in '13, Top 3 protected '14, unprotected '15)
Sacramento Kings acquire
SF Luol Deng
PG Marquis Teague
Chicago Bulls first-round selection for 2015
Why it makes sense
Bulls fans might view it as an extreme risk to deal their second best player while their best player continues to nurse a devastating injury. Luol Deng is a fan favorite who plays above-average defense, has improved his shooting and has a wealth of postseason experience. However, he has another year left on his contract at nearly $14 million dollars and if they keep him through next year, they'll likely look to extend him to a contract that will eat up a large portion of their salary cap as he passes age 30. There's also an inherent risk to deal Marquis Teague, a young, extremely cheap point guard who has great athleticism and seems capable to command an offense in a few seasons.
Teague was a sound selection at the end of the first-round: tremendous value, if you ask me. However, unless he turns into a bonified superstar, there's zero chance he'll ever start over Derrick Rose. As of now, Teague is already an asset — a cheap, controllable point guard with a relatively high ceiling.
The Kings, in contrast, are in need to of what the Bulls have to offer in this deal. They need perimeter defense, a veteran who can provide leadership and guidance to a young roster and a true point guard (Evans and Isiah Thomas are both miscast running the floor and Aaron Brooks is adequate, at best). With Deng, the Kings would acquire a veteran who provides steady offense, sound defense, and the intangibles missing from this roster. His addition creates an interesting frontcourt with DeMarcus Cousins and the undervalued Jason Thompson. I also love that this gives Cousins the chance to come the undisputed #1 option on offense, something he's desired since his rookie season. Him and Evans have very similar personalities and it would give the Kings a chance to change the culture of the team.
For the Bulls, they finally land themselves a threat at the two spot. Evans is a fellow Memphis Tiger and would have that common ground with Derrick Rose, right down to the similarities in their games. He gets a fresh start and will be forced to grow up quickly with the demands of Rose, Noah and Coach Thibs coming at him every day. Evans is a deadly slasher who draws plenty of fouls and is a sneaky good defender… well, when he wants to be. Coach Thibs could turn him into an elite defender with his length and great lateral quickness. The biggest drawback to Evans is that his shot from 18 feet to the three-point line is still streaky (again, another Rose comparison early in his career). If Evans is able to find a more consistent stroke from outside, he and Derrick Rose could be unstoppable for years to come.
The Bulls also add some depth to their bench with Garcia (I have the Bulls obtaining a first-rounder for taking on Garcia, mainly because his salary is full guaratnteed for this season, although his final year is a club option, which I'm almost certain the Bulls wouldn't exercise) and an eventual replacement for Gibson off the bench at the four. Robinson is a terror on the glass who can play defense, albeit with his own offensive shortcomings (Ha! Just like Gibson, eh?) Robinson is a cheap option with three more seasons of control, plus a restricted free agency year. And why would they need a replacement for Gibson on the bench, you ask? Well… that's because the current starting 4 is being shipped out in this next deal….
Trade #2
Link here on NBA Trade Machine
Chicago Bulls acquire
SF Luke Walton
PG Daniel Gibson
First-round draft pick acquired from Miami VIA LeBron James trade
Cleveland Cavailers acquire
PF Carlos Boozer
Conditional second-round pick in 2013
Why it makes sense
First off — this trade isn't necessarily a rooted in talent acquisition. This is the best way for the Bulls to extinguish a salary cap log jam that'll plague them until 2015. Gibson and Walton both have deals that expire at the end of the season, which gives them nearly $11 million farther away from the luxury tax going into the 2013-'14 season. The Cavs have discussed moving Anderson Varejao, who's having a career year and has managed to stay healthy. He's extremely attractive to a contender looking for an elite defender and rebounder (OKC, Boston and Brooklyn come to mind) and with his relatively light cap figure ($27 million owed over the next three years and a 5% salary trade kicker), they should be able to land a hefty ransom for him.
Obviously, the Cavs would need to replace Varejao's scoring and rebounding when he leaves, and Boozer has the ability to do that. His pick and roll ability would work well with the budding Kyrie Irving. This would also give them an opportunity to give more time to Tristan Thompson and Cody Zeller.
The other asset for the Bulls is the selection they pick up from Cleveland. During the LeBron James trade, Miami gave the Cavs the rights to switch first-round positions the Lakers (who originally traded their pick to Miami). With the Bulls having their own pick and the pick I had them land in the Sacramento deal, three potential first-rounders could help give them cheap bench fodder going forward instead of taking flyers on people like Kirk Hinrich and Nazr Mohammed. And on the off chance the Lakers continue to struggle, they could flip one of their picks and move up a few spots, which could help facilitate future deals to land a second superstar.
To recap: Boozer's laughable deal gone to a team in need of offense and a fringe draft selection for $11 million in cap relief and the ability to swap picks? I'll take it.
Trade #3
Link here on NBA Trade Machine
Chicago Bulls acquire
SF/PF Andrei Kirilenko
Minnesota Timberwolves acquire
SG Richard Hamilton
PG Kirk Hinrich
SF Vladimir Radmanovic
Why it makes sense
The Wolves are primed to make their first playoff push since Kevin Garnett donned their uni. Their major issue has been getting production from the shooting guard position. The Brandon Roy signing has been a disaster, with yet another knee surgery behind him. Ditto for Chase Budinger, who was playing well until he was lost for several months due to a knee injury. Hamilton and Hinrich gives them veteran leadership to a young squad — guys who play the game the right way, have playoff experience, and can provide them with some offense and adequate defense. Radmanovic also provides an insurance policy if the injury bug were to continue biting the team.
Another attractive aspect to this deal is that Radmanovic's deal expires at the end of this season, which removes nearly a million in salary. Hamilton and Hinrich also expire at the end of next season. The interesting tidbit on Hamilton's deal is that only $1 million is guaranteed, so if he were to get injured or simply doesn't perform, the Wolves are only on the hook for 20% of his salary. These figures are paramount when you consider the fact that Pekovic will be a free agent and it would seem that GM David Kahn will try to lock him up to a long-term deal.
The other aspect of the trade I like for Minnesota is it gives a chance for former #2 pick Derrick Williams a chance to start at small forward. He's slimmed down a bit this year, but remains hamstrung for minutes with the presence of Kevin Love and the now departed Kirilenko. Young players cannot improve without reps, and this lets Minnesota know if Williams has the chance to fulfill his awesome potential. A starting five of Rubio, Hamilton, Williams, Love and Pekovic should have Wolves fans excited.
For the Bulls, they replace the defensive tenacity lost when they dealt Deng to Sacto. Kirilenko is a no-nonsense defender who can guard four positions on the court. He appears revitalized from his season spent in Russia, and with his stat-stuffing ability, he would neutralize a majority impact lost by deng. On top of that, Kirilenko's deal expires at the end of next season, meaning another $10 million is zapped from the payroll. Whether used as a trade chip next year or they ride him out, Kirilenko would be a welcomed asset.
Roster after trades are completed
Starters
PG Derrick Rose
SG Tyreek Evans
SF Andrei Kirilenko
PF Taj Gibson
C Joakim Noah
Bench
PF Thomas Robinson
PG Daniel Gibson
SG Marco Belinelli
SF Francisco Garcia
SG/SF Jimmy Butler
C Nazr Mohammed
SF Luke Walton
PG Nate Robinson
Trade recap highlights
Bulls shave off $16.1 million in salary going into the 2013-'14 season with the trades, and also an additional $4 million with Belinelli, Nate Robinson and Mohammed's deals expiring. Before any signings or draft selections, they would owe $60.3 million, versus $73.2 as the roster is currently constructed. The luxury tax for next season is set at $70.3 million, translating to $4.8 million saved in a tax penalty.
They pick up a $10 million dollar expiring deal in Kirilenko for the upcoming season. They also facilitate these deals without using the $5 million dollar trade exception from the Hawks for the Kyle Korver trade.
Tyreek Evans goes into his restricted free agency period, in which the Bulls have an entire season for him to adapt to Rose, Gibson and Noah. They could gauge how much he'd be worth for an extension, or potentially flip his cap-friendly restricted free agent tender to a team looking for a scorer. Obviously, this could land them draft selections or another young asset.
Make sure to keep in mind that Boozer's albatross of a deal is gone, which will save them $30 million going up to the 2014-'15 season.
Bulls land two additional first-rounders, one being a protected pick from Sacramento and the other giving them the opportunity to swap picks with the Lakers, VIA the LeBron James trade. At worst, the Bulls would have two picks in the 16 to 25 range (based on the current records of Chicago, Sacramento and Lakers), with the Sacramento pick still dangling. At best, the Kings' pick turns into a high lottery selection next year, giving the Bulls that pick and their own. Or…. *gasp*… it rolls into the 2015-'16 season unprotected.
When you compare the Bulls current roster to the one after these trades are executed, wouldn't it be a fair argument to make that their quality of play would, at worst, wane a little bit? More than likely, they'd still be in contention for one of the final three playoff spots in the East. Fans are already of the mindset that this is a lost season with Rose not due back for at least 6 more weeks, so why not get creative with the roster and give yourself a chance to make some moves going into the off-season?
Keep in mind that with these deals, the Bulls still hold onto their two most important assets: the rights to Nikola Mirotic and the Charlotte Bobcats selection, which becomes unprotected in 2016. What I enjoyed about working on these deals is that the Bulls will continually keep themselves below the luxury tax. The extension to Taj Gibson essentially told Bulls fans that he'll be the starter sooner rather than lately. With that, it would appear their core going forward will be Rose, Noah and Gibson (whether we like it or not).
With the Bulls fending off the luxury tax, they'd have the option to use the full mid-level and bi-annual exceptions to flesh out their roster and add bench depth around presumed bench mainstays Thomas Robinson, Jimmy Butler and Francisco Garcia. Again, I fully understand the immediate improvements may be negligible, but as I stated at the beginning, the Bulls don't need to be landing home runs to their roster in a "lost season." Getting below the tax level for next season should be priority #1. Not only is this achieved with these deals, but the Bulls are in even better shape for 2014-'15: the salary the Bulls are responsible for dips to $45 million, plus any rookie deals or added bench players. Even with that, they should be UNDER THE SALARY CAP at that point.
Oklahoma City and San Antonio have shown everyone the sustainable roster is paramount in professional basketball. These deals would certainly put the Bulls in that neighborhood in just two seasons. As always, thoughts, comments, questions, etc., are always appreciated.