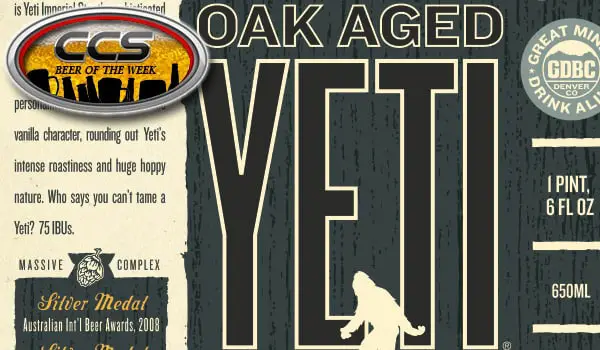 This week's BOTW: Great Divide Oak Aged Yeti
Happy New Year! I know, I know, I'm a little late. I had a huge hangover to work off, these things take time.
To prepare you for the impending cold and snow (even though it's going to be in the 50s), I've selected the Oak Aged Yeti for Beer of the Week.
This beer is the angry older brother of Great Divide's Yeti imperial stout (because I imagine sitting in an oak barrel for an extended period of time would make you angry). This beer pours pitch black with a thick brown head. Looking at it, you know it's gonna be hefty. The aroma has a light sweetness to it and a bit of molasses hiding in the background. The overwhelming thing you'll smell is a bourbony-oaky scent that does not fade, it keeps bashing your nose over and over (which is good if, like me, you enjoy bourbon). The flavor is malty and sweet with a thick and creamy mouthfeel. That sweetness fades out mid-way through and leads to a bitter and boozy finish. It's quite tasty, and if you can make it through the 22oz bottle, the 9.5% ABV will leave you with a nice warm feeling inside.
Enjoy your weekend!