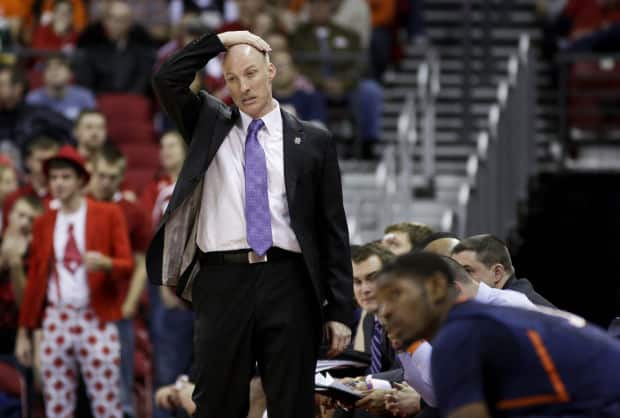 After starting the season 12-0, no one, especially John Groce could've expected that Illini would be staring down the barrel of a 1-4 Big Ten start.  After being handed a 68-54 loss to the Northwestern Wildcats in Assembly Hall, the Illini did just that. Illinois now sit at the bottom of the Big Ten, only in front of 0-5 Penn State and Nebraska in the conference standings.
The Fighting Illini and the Northwestern Wildcats entered Thursday's contest with an identical Big Ten record at 1-3. Northwestern's record didn't come as much of a surprise with their star Drew Crawford out with a season-ending shoulder injury. For the Illini, their predicate is much more surprising, as their Big Ten skid comes after entering conference play with a 13-1 record.
Northwestern jumped out to a quick 23-12 lead with 9:28 left in the half after hitting their first four three-pointers. Illinois got a taste of their own medicine as Northwestern finished with eight three-pointers on only 15 attempts. Northwestern senior Reggie Hearn hit a game high three three-pointers and finished with 20 points. Seniors Jared Swopshire and Alex Marcotullio added a couple shots from long range as well. Each Wildcat three pointer came with a sigh from the desperate Illini faithful. Illini coach John Groce says the team was overwhelmed by the Wildcats early attack.
"I thought the first ten minutes they were a juggernaut," Groce said. "Their cuts were precise, they screened well, the disappointing thing for us is we had probably three or four things we were trying to take away that we gave them."
The Illini once again leaned on their leading scorer senior Brandon Paul, as he scored 6 points in 7 minutes to start the game. He finished with 21 points and was the only Illini scorer that finished with over ten points.
Early on the Illini played selfish basketball and tried to do much, as they were held without an assist for most of the first half. Illinois had only 6 assists to 18 turnovers on the night. Paul was held without an assist for a third straight game. Paul understands he has to run the offense better.
"Me and Tracy [Abrams] gotta do a better job of facilitating the offense," Paul said. "When teams get up on us, it's not necessarily selfishness but guys try to make plays, including myself, and it might be stepping outside of our offense a little bit."
Northwestern poured it on the Illini, running out to a 34-17 lead after at one point after a lay-in by freshman big man Aaron Liberman. Things got so bad for the Illini that some members of their own Orange Krush began to chant air ball after Paul badly missed on a difficult floater.
The Illini started the second half off with a much-needed McLaurin and-one. As it was most of the night for the Illini, the momentum stopped there.
The immediate next possession for the Northwestern resulted in Illini big man Nnanna Egwu being called for an odd technical foul for touching the ball on the inbounds as it was out of bounds. The technical foul immediately sparked the crowd as the Illini went on a 5-0 run capped off by a Paul three pointer three minutes into the half. The run stopped short of cutting the lead to single digits, as the Illini could never really find any consistency in their offense.
Shortly after Egwu's technical foul, Groce received a technical foul with 10:55 left in the game. Groce refused to elaborate on the incident.
"I don't wanna talk about it or get into it," Groce said. "If I did, then my wife would probably have less money for shopping.
After starting the season sizzling from beyond the arc, the Illini have continued their three-point shooting woes. They shot 3-20 from behind the arc after shooting 2-14 in a loss against Wisconsin and 3-24 in a loss against Minnesota. Groce blames the teams subpar defense for their shooting woes.
"Well I think we're not getting as many [three pointers] in transition because our defense has too many holes in them," Groce said. "I said this all along when I was sitting in here and everyone wanted to talk about offense and three point shooting and all that, that stuff is cool but you gotta get stops to play that way."
Groce went on to compare the Illini's defense to Shaquille O'Neal's free throw shooting, "As long as you practice a flawed technique, you're probably not gonna get better."
Another year, another home loss for Illinois against Northwestern at home. The Wildcats came to Champaign last season and won 74-70. Coach Bill Carmody was thrilled with his team's victory.
"Big win for us obviously, especially on the road," Carmody said. "Our defense was solid, we made shots."
Last season the Illini lost six consecutive games in the Big Ten and missed out on an NCAA tournament bid. This team will have to make some changes in order to avoid a similar result.