Illinois fall to 2-7 in BIG after falling to Wisconsin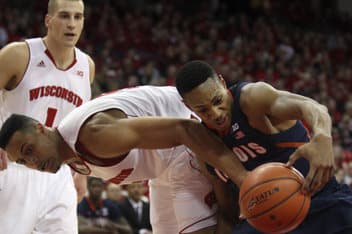 After losing five of their last six games, the Fighting Illini are in desperate need for a change in culture. No one expected that change would start in their backcourt as Wooden Award Finalist Brandon Paul would start the game on the bench as the Illini took on the Wisconsin Badgers. Sophomore Joseph Bertrand started in his place at shooting guard for Illinois. The change failed to put Illinois over the top, as they lost 74-68.
The last time the two teams squared off it wasn't pretty, as the Badgers stormed through the Illini en route to a 74-51 drubbing at the Kohl Center. The end result of this game might not have looked that bad, but the game was worse than the final score indicated. The Fighting Illini failed to avenge their loss and fell to a 2-7 Big Ten record.
It took three minutes until the first bucket of the game, but sophomore guard D.J. Richardson didn't disappoint, finishing a huge slam to start off the afternoon contest.
Wisconsin forced Illinois to play at their pace and lured them into their defensive style of play, stifling any kind of offensive rhythm. Neither team could create much separation early as Wisconsin took a 14-9 lead on a three-pointer by senior forward Mike Brueswitz with 10:12 left in the half.
The Fighting Illini were ignited by the play of sophomore center Nnanna Egwu on both ends, as he had a huge stuff on one and an alley-oop finish on the other with about eight and a half minutes left in the first half. Egwu finished with 14 points and 7 rebounds. Egwu says his team needs to remain positive.
"We can't put our heads down," Egwu said. "It's tough, but at the end of the day we've just gotta know that we just gotta keep on looking forward to the next game. Once your mentality starts going down it's hard to get points up with your head down, that's when things really go south."
Junior guard Ben Brust had a strong first half for Wisconsin, scoring 13 first half points to lead all scorers. Brust finished with a game-high 20 points.
Controversy struck with just a minute and a half remaining in the first when a lay-up made by Brust was initially waived off because of a shot clock violation. The referees later reviewed the shot after the Illini's sophomore guard Tracy Abrams had already drew a foul on the other end. The refs determined Brust's lay-up was released before the shot clock expired.
Momentum shifted in Wisconsin's favor towards the end of the first half as they eventually pulled out to a 33-24 lead. Tempers flared at the end of the half as Illini coach John Groce had to be held back as he refused to exit to locker room without first giving the refs his two cents to the officials.
Groce was docked with a technical foul with the free throws issued at the start of the second half for Wisconsin, which were both missed by Brust.
Illinois quickly gained some momentum after the misses at the line for the Badgers, cutting it to only a five point lead for Wisconsin after another alley-oop finish by Egwu.
The Illini's momentum was quickly halted as sophomore guard Myke Henry missed a fast break dunk that had the whole stadium with their head in their hands.
Brust hit yet another three-pointer on the other end to pull the lead back up to eight. Brust's three-pointer ignited an 8-0 run for Wisconsin capped off by three-pointer by sophomore forward Frank Kaminsky. Kaminsky finished with 19 points and 5 rebounds. Groce thought his players defended poorly, especially in the second half.
"I think our answer at times to playing hard or when we get behind is to foul and be undisciplined, Groce said. "I didn't think our defense from an execution standpoint was very good the second half."
Brandon Paul, the Illini's leading scorer on the year, was held without a field goal until 12:46 left in the game. Paul struggled coming off the bench, shooting 3-13 from the field with 13 points. Badgers coach Bo Ryan wasn't caught off guard with Paul coming off the bench.
"I'm never surprised," Ryan said. "41st year coaching, nah, throw whatever you want at us. I'll never be surprised."
Bertrand, who started in place of Paul, poured in six straight points for the Illini with ten minutes left as they were in need for some offense. He finished with 17 points and 7 rebounds in his first start of the season. Bertrand didn't think starting was a big deal.
"I don't really think it matters who starts anyways," Bertrand said.  "We have a lot guys who can start the game. We've changed some lineups to see what's working well and I think different lineups work for different games."
After an ill-advised three-point attempt by Richardson bricked off the bottom of the backboard, senior forward Ryan Evans hit a jumper on the other end to give the Badgers their biggest lead of the contest at 55-41 with 8:20 left to play. Evans was a key for the Badgers on both ends, as his inside play proved too much for the Illini. He finished with 15 points and 9 rebounds.
Illinois could never find consistency in their offense and shot only 2-13 from downtown. The Badgers refused to relinquish the double digit lead that they held for most of the second half.
With the win, Wisconsin improved to 6-3 in the Big Ten while the Illini fell to 2-7 in a losing effort.