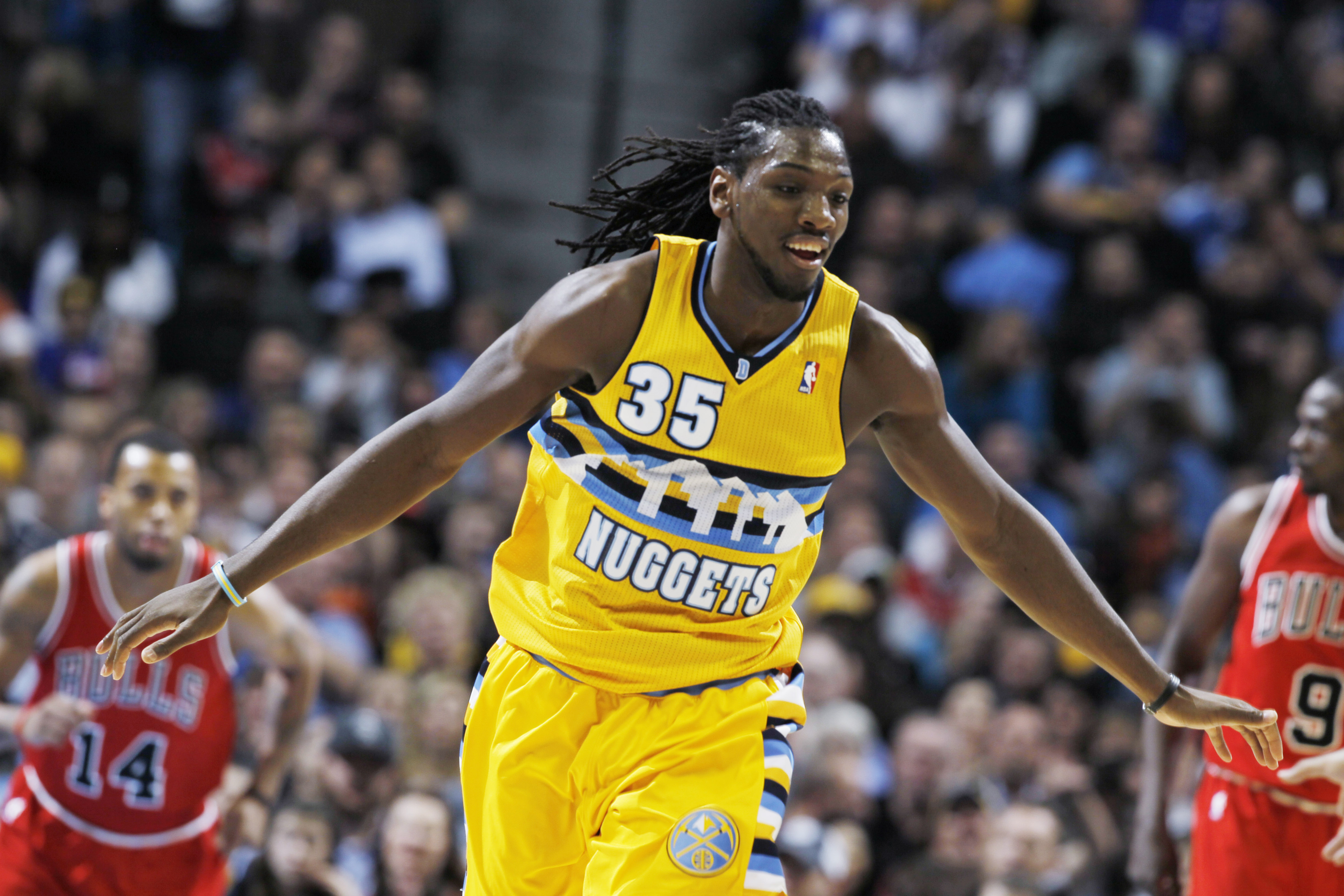 In the second installment of The Bulls Show: Nillz Hitz, I recap the "Denver Debacle" then offer some thoughts and verdicts on trades recently rumored for the Bulls.
MANHANDLED BY THE MANIMAL: The Bulls were embarrassed by the Nuggets last night (128-96) allowing the most points in the Tom Thibodeau era. Kenneth "The Manimal" Faried lived up to his nickname by playing with enough energy to prevent a Super Bowl blackout. His hustle and perpetual activity seemed to completely neutralize the offensive rebounding advantage the Bulls typically experience in games. In only 26 minutes, Faried poured in 21 points on 9 of 10 shooting to go along with 12 rebounds. Denver took advantage of the uncharacteristic and lackadaisical defensive effort by the Bulls by literally running Chicago off the court in transition and scoring in the paint at will (+20) with at least 15 dunks. The Nuggets were also led by Wilson Chandler who scored 24 points off the bench after putting in some cheat codes for a flawless night from behind the arc (5 for 5).
FREE SCOUTING REPORT: I'm with Ricky O'Donnell of SBNation and blame Zach Lowe for this Bulls performance. In case you missed it, the Grantland writer posted a fascinating piece earlier this week detailing the team's tendencies and pursuit for perfection on the defensive end. The well-articulated and extremely insightful article practically doubled as a scouting report for public consumption and must be the only explanation for the Bulls showing last night. Nuggets head coach George Karl could've taken yesterday off after forwarding the link to his players like it was hot.
ABOVE THE CLOUDS: After missing three games due to plantar fasciitis in his right foot, Joakim Noah made a rather un-triumphant return to the Bulls lineup recording only 2 points and 5 rebounds in 23 minutes of action. He also managed to lose a shriek battle with the aforementioned Manimal, unofficially scored at 3 to 1. The all-star center's ineffectiveness could have been attributable to a number of factors that included rust, the nagging injury, Denver's suffocating altitude, or Colorado's recent legalization of marijuana.
SILVER LININGS: In better and obligatory news, TNT's Marty Snider quoted Tom Thibodeau as saying "There is now nothing that Derrick Rose is not doing on the court." Rose has also reportedly asked his teammates to arrive early and stay late to practice to scrimmage. Still no target return date has been set, but…
CHEAP ITALIAN FOR DINNER. Marc Stein of ESPN reports that the Bulls are exploring a potential trade with the Raptors that would send Carlos Boozer to Toronto in exchange for Andrea Bargnani & Aaron Gray. KC Johnson of the Tribune then tweeted that the negotiations are inactive, but could be revived if Chicago was willing to part with Nate Robinson. The reigning Eastern Conference Player of the Week would essentially be swapped for another pint-sized point guard and last year's temporary underdog hero, John Lucas III.  In short, this rumored deal is egregious and laughable for the Bulls. While the return of "The White Panther" may delight a select few, the acquisition of Bargnani and Lucas are definite downgrades at each position. Amazingly, Thibodeau would find his biggest project in Bargnani, who is even a bigger defensive liability than Boozer.  Although the principle trade pieces share similar scoring averages, the perimeter-oriented Bargnani, who is listed at 7 feet, is much less physical and rebounds at an alarming rate of only 4 per game. The perceived strengths of the first overall pick in the 2006 draft is his sharpshooting and extended range, but this reputation can be easily dismissed this season with Barganani's  30.9% shooting from beyond the arc. Meanwhile, in the battle of diminutive fan favorites, JL3's ability to stall an offense with his incessant dribbling is a more significant detriment to the Bulls than the often erratic, but more decisive and athletic Nate Robinson. The only motivation for this trade from a Bulls perspective would be financial as the team would not only save nearly $2 million in salary, but also fall under the NBA's luxury tax that is assessed to teams that exceed the annual salary cap. Verdict: Rejected
THE GUY BLAKE GRIFFIN MURDERED: Earlier this week, Mike McGraw of the Daily Herald identified Timofey Mozgov as another trade prospect. In the potential deal, the Bulls would ship starting shooting guard Rip Hamilton to Denver. While Mozgov has seen limited action this season and is probably most infamous for his role as victim in Blake Griffin's most memorable dunk, the third-string center would still add some desperately needed front court depth for the Bulls as they battle injuries. Obviously, Mozgov wouldn't exactly close any gaps with Miami, but he could still provide some relief as the 4th big before Noah, Boozer, and Gibson flame out from extended minutes. Nazr Mohammed has been worthless as the current option on the depth chart, averaging more personal fouls (1.2) than points (0.8) in his 6 minutes per game. Mozgov even gave the Bulls a garbage time audition in last night's game, going perfect from the field (3-3) for 6 points compared to Mohammed's goose egg in 10 minutes. Further, the sudden emergence of Jimmy Butler (and to a lesser extent Marco Belinelli) has crowded the Bulls backcourt making Rip Hamilton expendable. Although the Bulls may miss his "veteran-savvy" come playoff time, the fragile 34 year old Hamilton has had his most inefficient shooting season since his rookie year. Verdict: Approved
JUST JUMPERS REDICK? Alex Kennedy of Hoops World suggested JJ Redick of the Orlando Magic is also on the Bulls radar to improve the team's suspect three-point shooting. The transaction could send Redick to Chicago for a few future assets including rookie Marquis Teague, Charlotte's lottery pick unprotected in 2016 and the "player trade exception" acquired in last offseason's Kyle Korver deal. The issue for the Bulls is whether they would be willing to sacrifice long-term potential for the rental of an offensive weapon. Charlotte's lottery pick could result in another superstar to pair with Rose, but an in-depth analysis of probabilities suggests this is far from guaranteed in three years. Conversely, Redick's $6.2 million contract expires after this year allowing him to become an unrestricted free agent in the offseason. It would be more likely that another team with salary cap space overpays for Redick's services than the fiscally responsible Bulls re-sign the guard. This year, Redick has established himself as a multi-dimensional threat on the offensive end. The misconception that Redick is a relegated jump shooter is rendered outdated by his performance this season. Redick has emerged as a more dynamic Korver and a more accurate Belinelli. Regardless, the luxury of a "Korvinelli" appears short-sighted and insufficient to be the game-changer that gives the Bulls a definitive advantage to surpass Miami. In addition, Redick would just join an already overloaded backcourt on a team where shooting has become less of a priority as frontcourt depth. Verdict: Rejected.