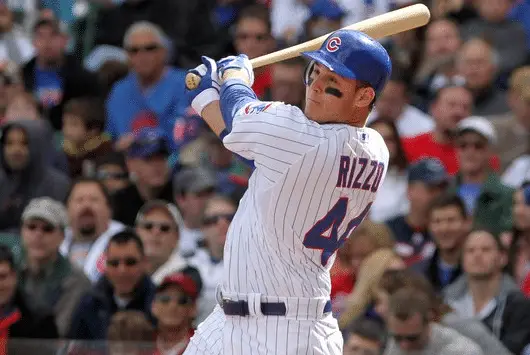 Next in the series is a preview of first basemen, and there won't be any position battle here.
Starter: Anthony Rizzo- Rizzo is the future of the team, and there is little doubt that he will be the starting first basemen and will be slotted in the middle of the lineup on Opening Day. Rizzo was impressive in his four month stint with the big league club after struggling with San Diego two years ago. He is the centerpiece of the club and the team knows he is ready. Rizzo has strong power and should be able to post a .280 or .290 Batting Average consistently. Rizzo is the type of player that both Jed Hoyer and Theo Epstein adore. He has garnered comparisons to Adrian Gonzalez, a former player of both Hoyer and Epstein. Expect big things from Rizzo in the Cubs order in a season that could result in him being an All Star.
It is not a guarantee the Cubs will carry another first basemen on the major league squad, but if they decide to, here are some options:
Steve Clevenger-While Clevenger is a catcher, he has some experience at first base,  but his strength is with the glove and he won't be able to showcase that as much at first base as he would behind the plate.
Brad Nelson- Nelson is one of those powerful, Bryan LaHair type career minor leaguers. He is 30 years old, and had a few stints with the Brewers in 2008 and 2009 where he hit .071 over the course of those two seasons. Nelson has little chance of making the team at all, but with a few injuries could sneak onto the major league roster.
A free agent or trade is highly unlikely, as the least of the Cubs needs is a backup first basemen. Its Rizzo's job to lose, and there is no chance anyone else will take it from him.