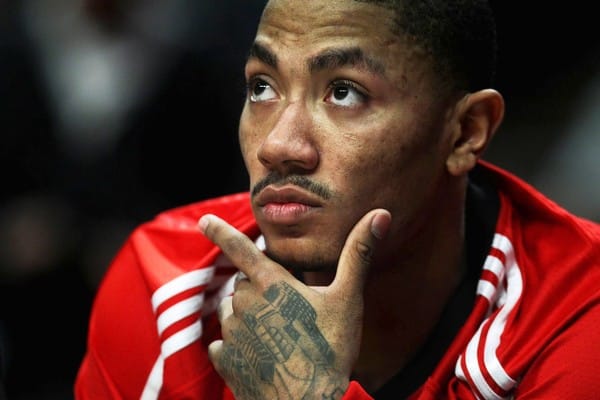 A lot of words on the "nothingness" of the latest D. Rose updates and a quick update on the downward trending Bulls.
D-RAMA. First we had LeBron's "Decision," last year we endured Howard's "Dwightmare," now the NBA's biggest off court storyline this season is developing into Rose's "D-Rama." It has been a rather turbulent few days for the Bulls, their former MVP, and fans. On Tuesday, Jeff Zillgitt of the USA Today published Rose's first interview of the season where the injured point guard quantified his status ("high 80s") and expectations ("I'm not coming back until I'm 110%"). While Rose said nothing definitive and the percentages are pretty arbitrary, the piece generated the most buzz from his admission that a return "could be next year." Naturally, the ominous quote sent Chicago media and fans into a tailspin despite its lack of substance. In the same breath, Rose really explained that he could be back at any point. Rose went on to mention that "everything has healed" and "gained 10, 11 pounds of muscle."
From the article alone, I originally felt the statements were too vague to alter a schedule that Thibs has repeatedly asserted Rose was right on. Rose sounded physically capable of returning within the month considering there wasn't a logical reason to keep him out of the lineup any longer. Regardless of the Bulls' cemented position as underdog versus the juggernaut in Miami, it'd be asinine to hold Rose out for the entire season just because the team has zero chance at winning the title. First of all, there's always a chance as Zach Lowe of Grantland has previously outlined. Secondly, LeBron James and the Heat aren't going anywhere next year either. Perhaps the Bulls should then quarantine Rose until they're able to acquire a second superstar or wait for the almighty King to retire?
The more significant and only legitimate concern is obviously Rose's health.  I'm no doctor, but the USA Today gave me the impression that Rose was back to form from a physical standpoint (conditioning excluded) and the only hurdle left was mental.  If that is the case, Rose would benefit most from playing in actual games as soon as possible to begin trusting his rehabilitated knee. You build confidence from an injury with experience, even at 15 minutes per game, not from sitting out 18 months.
Of course, this mindset was under the caveat that Rose was physically at full strength. The plot thickened last night when Rose spoke to reporters and confessed that his "leg isn't still feeling right" and he currently can't dunk in stride. If Rose's knee is still limited, then I agree that the conservative approach of delaying his return until next year is warranted.
Yes, this changes everything – or does it? The biggest uproar circulating the internet stems from Rose's indifference when asked if he'll play this season, to which he replied "I really don't know… I don't mind missing this year." The uncertain and almost too nonchalant nature of Rose's answers once again struck panic throughout Bulls nation. However, upon closer examination, Rose's comments still lacked anything concrete and were mostly based on contingencies (e.g. "If it's where it's taking me a long time…" and "If I have anything lingering…"). Much like the USA Today article, nothing was really said and no conclusive timetable was established. In fact, Rose began last night's interview indicating he's had no setbacks. None of this information actually contradicts the organization's tight-lipped stance of Rose returning when "he's ready" (unless you want to call Jimmy Butler a liar). I understand the appeal and need of Rose speaking for the first time, but is any of this really news?
I do remain optimistic Rose will eventually feel no ill-effects of the injury within the typical 8-12 month recovery period for ACL tears and return this season… or maybe I'm just being naïve. Worst case scenario, Rose does sit out this year for a grand total of 18 months – but you know who else was gone for 18 months?
YOU MAD? And then there's the issue of at least one salty local reporter because Rose didn't grant them exclusive access when breaking his silence. Apparently, some feel Rose's calculated maneuver, arranged by his agency, of speaking to a national publication first was disloyal and financially-driven.
I'm probably ignorant to protocol, but when has an athlete, much less Rose, ever had a responsibility to the media? In breaking news, Rose isn't Barack Obama. He isn't the most eloquent of speakers (as cited above) and any criticism for attempting to "control his message" is absurd.  Even if the motivation was capitalism, how is Rose at fault for protecting and furthering his brand? We aren't exactly dealing with a narcissistic play here on the level of The Decision, where a healthy LeBron James held multiple franchises hostage. However, I will say that the USA Today selection is a bit reminiscent of another Bull who carefully aligned himself with specific media outlets to help preserve his public image during his playing career in an effort to sell Nikes and Gatorade.
YOU AIN'T GOT NO ALIBI. In actual basketball news, the Bulls did lose to the Celtics last night 69-71 in a defensive struggle. In full disclosure, I did not watch the 2nd half because I was channeling my inner Thibs and running practice for the 6th grade traveling team I coach. The focus of last night's practice was protecting the basketball, improving our decision-making on offense, and reducing our turnovers.  By the looks of things, I should've just been coaching the Bulls. The 20 points allowed on 22 turnovers are sufficient cliff notes to the ugly loss – the Bulls' 4th in 5 games. During this stretch, the Bulls' turnover total has increased each game and continues to disrupt an already deficient offense. You begin to wonder if this downward trend is primarily the result of Kirk Hinrich's absence. While the much-maligned stopgap at point guard has severely struggled shooting this season, Kirk is much more competent at executing offensive sets compared to his counterparts in Nate Robinson (too erratic despite his penchant for scoring) & Marquis Teague (too raw despite his speed).  The Bulls are now 4-9 in games that Hinrich doesn't play. I'm not sure if I'm ready to live in a world where I miss Kirk, but without him, the Bulls' offense basically operates at a 6th grade level.
GIFT & A CURSE. The 2012/13 NBA Easter Conference Coach of the Month curse is arguably the most devastating since the Cubs' "Curse of the Billy Goat." After posting a 12-4 January record and vaulting the Bulls to the 3rd seed in the East, Tom Thibodeau earned the award only to lose 5 of his first 7 games in February. The current month has also witnessed a series of injuries that has plagued Thibodeau's roster and highlighted the Bulls' lack of frontcourt depth. Eastern Conference Coaches of the Month are now a combined 12-24 in the months following the recognition. The curse/precedent was established early in the season when the Brooklyn Nets' head coach Avery Johnson not only struggled in December, but was also terminated from his employment after receiving Coach of the Month honors for November.
SILVER LININGS. The upcoming all-star break is a welcomed reprieve for a Bulls team that has now dropped to 5th in the Eastern Conference.  The Bulls will be well-represented in Sunday's main event in Houston by 2-time all-star Luol Deng and newcomer Joakim Noah. The usually light-hearted weekend should feature a handful of entertaining and interesting moments, especially from an Eastern Conference locker room full of bitter rivals.
Finally, if you're still looking for a date on this Valentine's Day, you might not have to spend it alone.