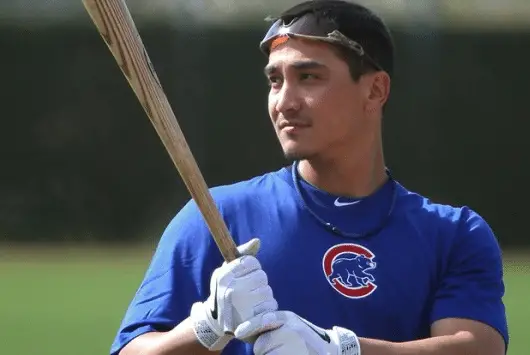 Another infield position that will not have a position battle is at second base, where Darwin Barney is the clear cut favorite to land the job on the right side of the diamond. Darwin has been a mainstay at second for the Cubs since taking the position early in the 2011 season. He seems to figure into the lineup as either the two hitter or the eight hitter, depending on whether a righty or a lefty is starting that day. Barney hit .254 with 7 Homeruns and 44 RBI's last season, which is unspectacular for a guy that lacks power. However, his fielding makes up for it, as he made a bevy of highlight plays for the team and even tied a long standing Cubs record of most games without commiting an errror. With all of this said, it would be reasonable to think that the Cubs could end up dealing Barney as soon as next offseason, because of their influx of middle infield prospects, including Javier Baez, Junior Lake and Logan Watkins. Despite all of the potential competition at the lower levels, Barney's job appears safe for the time being.
Whether there will be a backup for Barney and who it will be is something that could turn into a major storyline this spring. Brent Lillibridge, who was signed to a minor league deal this winter, could be in play, but Lillibridge plays almost everywhere around the diamond and could only see limited time at second base. Another option, Luis Valbuena, is more comfortable at third base, but it would also be plausible to see Valbuena play some games at second base when Barney is given an off day. Mlbdepthcharts.com projects both of those two to make the major league roster, but in utility positions rather than just backing up second base. With those two as the only real options for another second baseman, Barney projects to get the majority of the starts next to Anthony Rizzo on the diamond, barring injury.
As you might have noticed, I changed up the format for these and this will now be the permanent one. Feel free to leave feedback about the format and the content of the article.
Make sure to check out our Cubs forum for the latest on the team.