Every time the Chicago Blackhawks and Vancouver Canucks take the ice against each other, it is guaranteed to be a physical and entertaining matchup with a lot of hard hits. Both teams always have a little extra intensity as each game brings a little more hatred to the bad blood between the two teams. But on Monday night, the Hawks just could not match the intensity of the Canucks and did not have any chance in this game.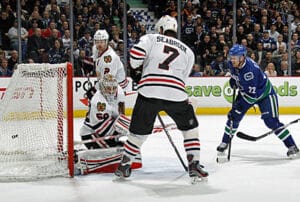 Vancouver controlled the game right from the first period as the Hawks only managed to mustard up five shots. Goaltender Corey Crawford stood on his head and kept the Hawks in the game for as long as he could. Jannik Hansen started the scoring after deflecting a shot past Crawford on the power play. From that point on, the Canucks kept momentum  throughout the course of the game.
Still only down one in the second, Patrick Kane just missed tying the game up but drew iron. It was one of the few quality chances the Hawks created as Vancouver was strong on defense. Just minutes later, Zack Kassian snuck one past Crawford after the Hawks D-men allowed a past right in front of the net. Then with less than a minute left in the period, Daniel Sedin beat Crawford on a breakaway giving the Canucks a 3-0 lead heading into the third.
As always, the Canucks were hitting hard and hitting often. The Hawks had no answer for the physicality and seemed to be frustrated with a lack of offensive opportunities. Vancouver out hit the Hawks 37-23.
The Hawks tried to get something started in the third. Daniel Carcillo was able to back hand a shot to give the Hawks their first goal. But it proved to be the only goal they were able to score as the Canucks kept the pressure on defensively.
A very disappointing game for the Blackhawks. Hopefully getting dominated by one of their biggest rivals will bring out the best in them as playoffs are now a week away.
What's next: Hawks play the Edmonton Oilers Wednesday night. Puck drop is set for 8:30