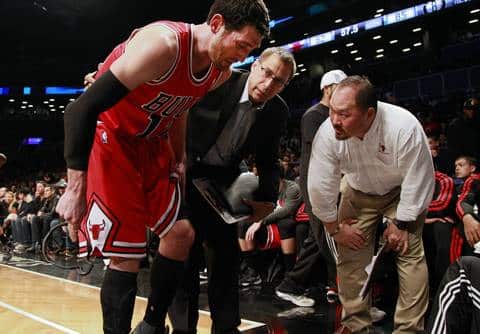 Let's face it, of all athletic trainers in the NBA, Fred Tedeschi was certainly put to work this season.
From Derrick Rose to Kirk Hinrich and everyone in between, he's had a lot to deal with. And along with Coach Thibodeau, he's had a lot of criticism on top of that. Though reasons for being awarded the honor aren't exactly similar to those, the pool of people who chose him are quite telling.
His peers, head and assistant trainers from all 30 teams in the National Basketball Athletic Trainers Association (NBATA), not only chose Tedeschi based on accomplishment within the Bulls organization but also service and mentorship throughout the league.
"We are lucky to count Fred among our ranks and consider him one of our leaders," Chairman of the NBATA Casey Smith told NBA.com.
Tedeschi has been with the Bulls for 15 seasons and in 2007 he also received this honor.
Despite the long stint with Chicago, his resume also includes the University of California-Berkeley, Vanderbilt University, U.S. Volleyball and the San Francisco 49ers, where he earned three super bowl titles with the team.
We're a bit shy of championships in his era with the Bulls, but we sure do appreciate his efforts in keeping them healthy and one day, getting them there.