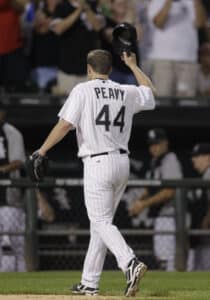 According to MLB Trade Rumors Jake Peavy told Comcast Sports net's Inside Look that he has "no problems being moved to who is in contention and trying to win a World Series." These comments most likely come in the wake of general manager Rick Hahn demanding improvements in the team and publicly stating that the team doesn't want to sell at the deadline, however if things keep going badly then the White Sox hand might be forced. All of this talk has boiled over in the wake of the South Sider's recent eight game skid.
Before the Crosstown Showdown with the Cubs, the White Sox were looking to be contenders again after winning nine of twelve games, but the Cubs and A's handed the Sox sweeps, and the Mariners are looking like they  might do the same with aces Felix Hernandez and Hisashi Iwakuma on deck for the Mariners. More losses, combined with the team not showing anymore life or improvement might lead to the trade of Peavy and possibly more.
Peavy might attract some attention from teams looking to contend, but who don't have the starting pitching to put them over the hump. Teams like the Los Angeles Angels of Anaheim and the New York Yankees come to mind immediately because they could eat his salary, but both teams do not have a very good farm system to poach prospects from. If the Baltimore Orioles or Cleveland Indians could eat the salary I could see a fit with them as they have a decent farm systems and also have one some of the worst pitching staffs in the MLB right now. But somehow the Orioles and Indians find themselves in second place in the AL East.
Make sure to check out our WHITE SOX forum for the latest on the team.