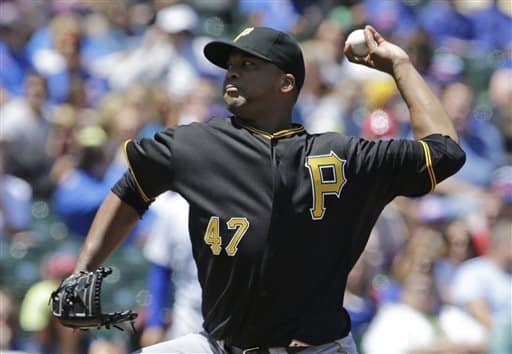 Summer sun and great starting pitching, but rather a quiet day behind the plate. The Cubs made it on base several times but squandered their chances, going 0 for 5 with RISP, in an afternoon pitcher's duel.
Francisco Liriano had Chicago hitless through four until Travis Wood singled to left. None the less they had opportunities in the second, fourth, fifth, sixth, and eighth innings due to five free passes, and 3 hits. A ninth inning 2-out rally was cooked up in the ninth with two more hits from Ryan Sweeney and Dioner Navarro. However, Jason Grilli of Pittshburgh managed to get out of trouble to take the save and cap off Liriano's win, who went 7, allowed two hits, no runs, five walks, and snagged eighht Ks.
Without support, Wood took the loss. He managed to stay scoreless until the sixth when his pitch count got too high for comfort. He gave up a double to Jordy Mercer followed but a deep fly to right from Andrew McCutchen. He then walked Gaby Sanchez and gave up another double to Russell Martin who scored Mercer, the first and only run needed. Wood gave up a total of one run and four hits, walking two and striking out six.
Cubs bullpen kept the club in it through the eighth following Wood's exit after the sixth. Marmol and Villanueva each gave a solid inning before Villanueva struggled in the ninth. He walked Martin and gave up a single to Pedro Alvarez. On a questionable decision by Luis Valbuena to throw for the double play as opposed to home, Travis Snider was safe at first while Martin scored Pittsburgh's second run.
Villanueva then allowed a single to pinch hitter Garrett Jones and hit Starling Marte at the plate, who took a base. No further damage was incurred by the righty. It didn't matter, though, as the Pirates executed just enough while the Cubs didn't at all.
Cubs hope to change that tomorrow at 3:05pm where A.J. Burnett (3-6, 3.22) will face Jeff Samardzija (3-6, 2.96).