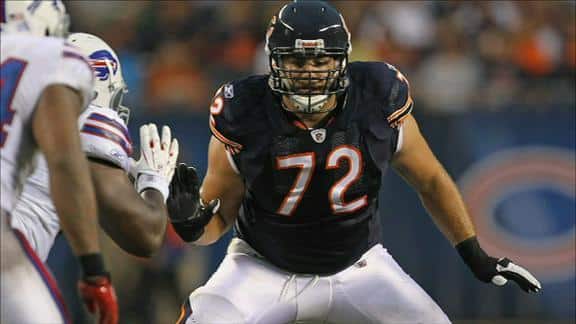 The Bears traded offensive lineman Gabe Carimi to the Tampa Bay Buccaneers, two sources told the Sun-Times on Sunday. It was not immediately known what the Bears received in return for Carimi, a former first-round pick.

A Bears source said there was no deal as 7 p.m. Sunday. But another source said Carimi was set to travel to Tampa Bay on Monday.

Carimi garnered plenty of headlines this offseason for his decision to train on his own in Arizona and not attend the Bears' organized team activities. The Sun-Times reported Wednesday that Carimi was planning on attending the the Bears' mandatory minicamp this coming week. A source said Carimi arrived in Chicago on Friday. The Bears are holding physicals on Monday.

The Bears selected Carimi out of Wisconsin with the 29th overall selection in the 2011 draft. He was expected to be the Bears' long-term solution at right tackle, but injuries derailed that.

Carimi started 10 games at right tackle last season and three at right guard. But despite all the playing time, he was never healthy after dislocating his right knee cap in Week 2 of the 2011 season and needing multiple surgeries.

Carimi did attend the Bears' voluntary minicamp in April, saying that his main goal this offseason was getting back to 100 percent. He has been working with trainer LeCharles Bentley, a two-time Pro Bowl offensive lineman, in Arizona.


The Bears bolstered their offensive line significantly this offseason, putting Carimi on the bubble. They signed Pro Bowl left tackle Jermon Bushrod and veteran guard Matt Slauson and selected guard Kyle Long with the 20th overall pick in this year's draft. The Bears also are high on second-year guard James Brown.

Bears coach Marc Trestman said he and his staff viewed Carimi as a guard and not a tackle for their offensive system. Trestman also acknowledged that Carimi wasn't fully healthy last season.

General manager Phil Emery said this past Tuesday that the team respected Carimi's decision to train on his own, noting that OTAs are voluntary.

"Certainly he wants to play and wants to play well," Emery said on Tuesday, the final day OTAs were open to the media. "I think that's why he's approached his training that way."

The Bears were in contact with Carimi in Arizona, but the team definitely wanted him to participate in OTAs, especially with a new coaching staff and a new offense being installed.

"We'd like all our players to be here, but Gabe made a decision that was best for Gabe so every individual player has to make those decisions," Emery said.

What the Bears saw in Slauson and Brown, who worked with the first team during OTAs, may have made Carimi expendable.

The Buccaneers do have a connection to Carimi. Tampa Bay's offensive line coach Bob Bostad was Carimi's offensive line coach at Wisconsin.