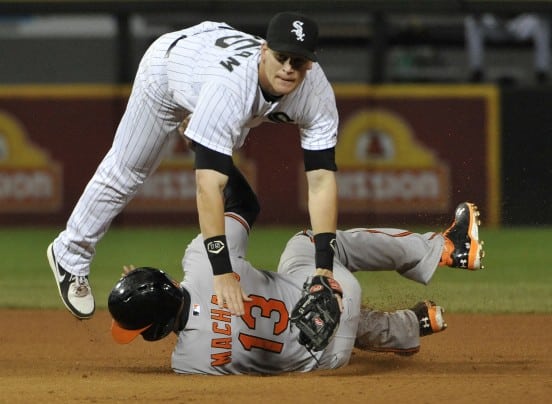 (Photo Credit: Associated Press)
If there ever was a good game to watch this season (and lately there aren't many), this was the one. The White Sox (33-47) had it all together for once.
No errors and solid defense, Adam Dunn and Conor Gillaspie hit home runs, Gordon Beckham had three hits, John Danks pitched into the eighth, and the White Sox topped the hot Baltimore Orioles (47-37) with a 5-2 victory Tuesday night. The Southsiders ended a five-game losing streak, and this win prevented them from dropping to 16 games under .500.
Baltimore took a 1-0 lead with one out in the third when Brian Roberts hit his first home run of the season after coming off the disabled list Sunday. That was really it for until a run in the eighth. Gillaspie's home run broke a 1-1 tie in the sixth, and on top of a run scored by Alejandro De Aza in the seventh, Dunn's two-run homer gave the Sox a 5-1 lead.
The Sox and Orioles play game two of the series tonight at U.S. Cellular Field, 6:10CT start time. Orioles newbie Scott Feldman (a Chicago Cubbie as of last week, now-turned Baltimore starter) will go up against Hector Santiago at the mound.
Sox Updates:
Former White Sox slugger Jim Thome has been hired as special assistant to GM Rick Hahn. While the job description varies per media source, you can imagine he'll be a key player in re-working this ball club.
 The White Sox signed 16-year-old Dominican outfielder Micker Adolfo Zapata to a contract that included a $1.6 million signing bonus. When I was 16, I was just happy to get $10 to go to the movies.
Paul Konerko came back last night after missing six games with back tightness. He was the DH and went 0-4 at the plate. Get better soon Paulywood!
Make sure to check out our WHITE SOX forum for the latest on the team.