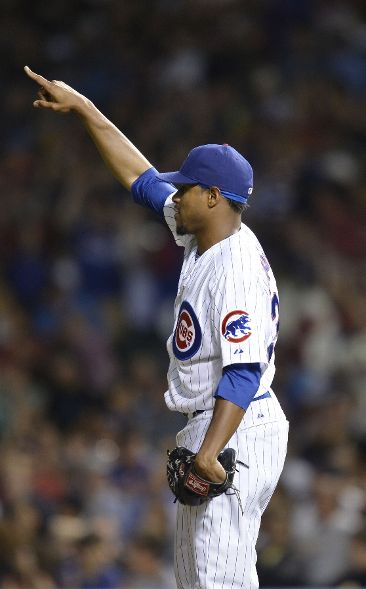 It took him half the season, but Edwin Jackson appears to have finally arrived. The pitcher is earning his contract one game at a time and tonight he threw a three-hit beauty that, with Anthony Rizzo's run support, was enough to snag game one of a four gamer against baseball's best.
The first basemen had some help in Starlin Castro. The shortstop singled in both the first and third innings to get on base. Rizzo drove him in by doubling and then singling later on, scoring Luis Valbuena as well. All three runs came off Cardinal Jake Westbrook who was handed only his fourth loss on the year.
The Cardinals were favorites heading into this game according to odds makers. For odds on upcoming games in this series or another MLB games this season, be sure to get yours from the best!
And that folks, was all Jackson needed. He fanned just five over seven but didn't give a single free pass. He was as stingy as ever, only allowing one runner to even reach third. Jackson got nothing but sweet redemption against his former club tonight.
It wouldn't be textbook if the bullpen didn't have fans on edge upon the starter's exit. It sure isn't the smoothest of reliefs when it takes three pitchers to get through an inning but the skipper did it with good reason. Dale Sveum replaced Blake Parker after a third and two on with southpaw James Rusell. After the lefty got Carpenter to line out to center, Sveum brought in righty Pedro Strop to face lefty Carlos Betran who sat down swinging.
Kevin Gregg took his usual post in the ninth, striking out the first batter he faced. After a diving stop from Rizzo, Gregg earned an error when he was unable to catch it cleanly at first. Wrigleyville Faithful held their breath after he walked the next batter but was bailed out on a shoe string catch from Alfonso Soriano in left to end it. Arguing the play was Cardinals' manager Mike Matheny who was subsequently ejected at game's end.
Tonight's performance snapped St. Louis' five-game win streak and marked Chicago's 12th win of its last 19. Cubs will look to keep things rolling tomorrow when Carlos Villanueva (2-4, 3.63) will face Joe Kelly (0-3, 4.15) at 3:05pm for game two.