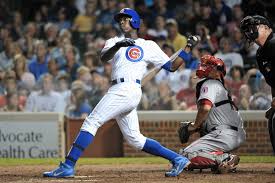 Just when you thought the Cubs may have been done trading for a day or two after the Matt Garza deal, the next set of rumors are heating up.
George King of the New York Post was the first to break the news that the Cubs and Yankees were close to reaching a deal that would send slugger Alfonso Soriano to the Yankees for a mid-level prospect. Jon Heyman and David Kaplan later also confirmed that the reports were true from their sources as well. If the two teams agree on a deal, Soriano will then have to opportunity to accept or deny the trade with his no-trade clause.
Sources say the Cubs expected to pay the majority of the $18 million remaining on Soriano's contract.
The Yankees have been in desperate need of power with Curtis Granderson and Alex Rodriguez out of the lineup so far this season. Rodriguez was on his way back before suffering a setback in his rehab on Sunday. He also has a suspension looming as Ryan Braun was the first domino to fall in the Biogenesis suspensions.
The 37 year old Soriano got off to a slow start but has recently been on a power surge and looks like his old self again. His 17 homers leads all Cubs players and also leads the team in average(among those who qualify), and stolen bases.
Ever since Theo Epstein took over as Cubs president of baseball operations, he has tried to move Soriano's large contract. Last July, the Cubs and Giants reached a deal but Soriano denied it. The Cubs went on to lose 101 games and the Giants won the World Series. With the Yankees in contention for the playoffs in the American League, I find it hard for Soriano to pass up the chance to play for a competitor again.
Some of Soriano's best years came as a Yankee(1999-2003) back when he was the everyday second basemen. He is a much different player ten years later but still features some power which the Yankees are desperate for.
Stay tuned as we should learn more about a possible trade as the day progresses.