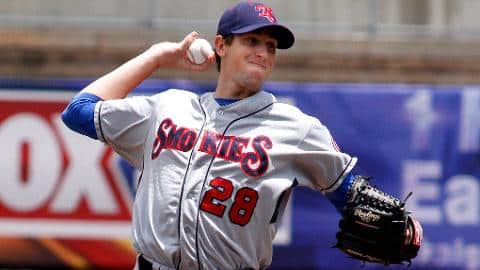 One of the busiest trade deadline teams, the Cubs did a lot of wheeling and dealing. Along the way, some power arms and a lot of big bats have emerged from their system. Many prospect experts, such as Jim Callis of BaseballAmerica and Jason Parks of BaseballProspectus, have put their farm system in the top five in all of baseball. The Cubs fans are realizing there is a light at the end of the tunnel through their dynamic farm system. Here are prospects 20-11, some who could be busts and others who could break out.
20. SP Juan Carlos Paniagua Age:23 Level: A ETA: 2016 MLB.com ranking: NR
Rookie League Stats: 1 G/1 GS 3 IP 4K 0.00 ERA
Short Season A Stats: 1 G/ 0 GS 2.1IP 2K 0.00 ERA
Single A Stats: 3 G/3 GS 7.2 IP 6 K 8.22 ERA
After resolving his visa issues earlier in the season, Paniagua is finally pitching for the Cubs in 2013. He has moved around three levels and did what was asked of him in the first two, but he has struggled at Single A. He has a fair amount of hype surrounding him and has very good stuff, but is still in the adjustment process to American baseball. As one of the older players in Single A, Paniagua will need to turn it around sooner rather than later to move his way up this list.
19. CF Brett Jackson Age: 25 Level: AA ETA: 2014 MLB.com ranking: 13
Roookie League Stats: 14 AB .071/.133/.071 0 2B 0 HR 0 RBI 0 SB
Double A Stats: 19 AB .211/.318/.211 0 2B 0 HR 1 RBI 1 SB
Triple A Stats: 215 AB .223/.300/.367 7 2B 6 HR 23 RBI 7 SB
A former top prospect who spent time with the major league club late last season, Jackson has yet to find his groove anywhere he has played thus far. He is still highly regarded by many experts, but has fallen off a lot in the last couple of seasons. Jackson has always been a player with clear strengths and clear flaws. This claim is supported by what MLB.com prospect expert Jonathan Mayo has to say about him, which is: "By now, it's clear what Jackson can and will do on the baseball field: He'll hit for power, he'll steal some bases, he'll strike out a lot." He is a five tool player if he puts it all together and is capable of hitting leadoff in a major league lineup, if he corrects his issues. His main problem is that he strikes out a ton. He has struck out a combined 89 times over 248 AB this season and fanned almost every two at bats last season in the big leagues, where he hit .175. Jackson will need to prove something to the Cubs organization for the rest of this season and next as well if he wants to see any more time in the big leagues.
18. SP Tyler Skulina Age: 21 Level: A ETA: 2016 MLB.com ranking: NR
Short Season A Stats: 8 G/2 GS 15 IP 10K 1.20 ERA
One of only two draft picks to appear on this list, Skulina dominated Short Season A ball with the Boise Hawks. He has been called up to the Kane County Cougars, but has yet to appear in a game. The 4th round pick out of Kent State allowed only two earned runs over 15 innings with Boise and is expected to translate his success to Single A.
17. SP Duane Underwood Age: 19 Level: SS A ETA: 2017 MLB.com ranking: 18
Short Season A Stats: 9 G/7 GS 36 IP 26 K 6.00 ERA
Underwood, a 2nd round pick of the Cubs last season, has struggled to put it together thus far with Boise. Underwood just turned 19 a couple of weeks ago and clearly has a lot of time to progress, but he may be watched more closely next season, which will be a big year for him.
16. SP Paul Blackburn Age: 19 Level: SS A ETA: 2016 MLB.com ranking: 17
Short Season A Stats: 8 G/8 GS 29 IP 28K 3.41 ERA
Another product of the 2012 draft, Blackburn was selected in the supplemental first round out of high school. He has had more success than Underwood with Boise, posting a 3.41, despite not yet recording a win. "He has a really advanced feel for a prepster", according to Mayo, which could be part of the reason as to why he is averaging almost one strikeout per inning this season. Blackburn also has a long way ahead of him, but seems to be the more polished prospect between him and Underwood.
15. CF Matt Szczur Age: 24 Level: AA ETA: 2014 MLB.com ranking: 10
Double A Stats: 416 AB .276/.344/.358 20 2B 2 HR 39 RBI 20 SB
Many people believe Szczur to be a good fourth outfielder in the future, which is a claim that is hard to disagree with. I have the former Villanova wide reciever ranked lower than many because I fail to believe he can make a big impact in the big leagues. Szczur could be a part of the Cubs outfield picture as early as next season, but could find himself on the bench more often than not. He still has time  to prove me wrong, but Szczur has his age playing against him.
14. SP Kyle Hendricks Age: 23 Level: AAA ETA: 2014 MLB.com ranking: NR
Double A Stats: 21 G/21 GS 126.1 IP 101 K 1.85 ERA
Acquired in the Ryan Dempster trade last season, Hendricks was viewed as the inferior of the two prospects that came back to the Cubs. While that is still the case, Hendricks is really making his mark this season. He has been the best pitcher in the Cubs system, posting a 1.85 ERA to go along with a 10-3 record. The 6'3″ righty was recently called up to Triple A Iowa, though he will make a pit stop in Mesa before reporting to the Iowa Cubs, where he is expected to serve in the rotation for the final month of the season.
13. SP C.J. Edwards: Age: 21 Level: High A: ETA: 2016 MLB.com ranking: 12
Single A Hickory Stats (Rangers): 18 G/18 GS 93.1 IP 122 K 1.83 ERA
High A Daytona Stats: 1 G/1 GS 5 IP 8 K 0.00 ERA
One of the newest Cubs, Edwards has already made a case to be in the top 10 of this list. In his first High A outing of his career, Edwards allowed just one hit over five innings, striking out eight. He has yet to allow a home run in his professional career and has a combined 1.74 ERA this season. The string bean slinger could make a fast ascent up the minor leagues and be with the Cubs well ahead of his timetable.
12. Jeimer Candelario Age: 19 Level: A ETA: 2016 MLB.com ranking: 16
Single A Stats: 395 AB .253/.339/.382 30 2B 7 HR 43 RBI 1 SB
One of the youngest players on the Kane County Cougars, Candelario has thrived despite his youth. He leads the team in doubles and has hit at a respectable clip. With many other big hitting prospects on Kane County, Candelario hasn't constantly been in the spotlight, which I believe has helped him. Keep an eye out for Candelario in the near future, who has received some comparisons to Starlin Castro.
11. Dan Vogelbach Age: 20 Level: A ETA: 2015 MLB.com ranking: 11
Single A Stats: 403 AB .285/.363/.454 20 2B 16 HR 68 RBI 4 SB
The Cubs Hitter of the Month for July, Vogelbach is starting to find his niche with the Cougars. The first baseman, who has Prince Fielder type power and build, hasn't even shown his full power potential yet, but is hitting for average and driving in runs, exactly what the Cubs need him to do. Vogelbach can become a very dangerous player once he reaches his full power potential, which could come as early as next season.
That concludes the first part of the post trade deadline prospect ranking. Stay tuned for part 2, where I will reveal prospects ranked 1-10.