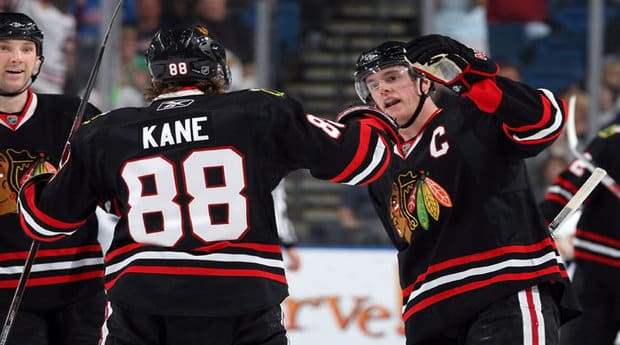 In the last few weeks, the Chicago Blackhawks have signed Corey Crawford a 6-year, $36 million extension and Niklas Hjalmarsson a 5-year, $20.4 million extension. The Blackhawks barely have over a million dollars in cap space this season, and at this rate, the team is on pace to be pressing the cap in the years to come.
Many are concerned that these moves may cause the Blackhawks to not be able to resign both Patrick Kane and Jonathan Toews. Stan Bowman thinks differently. Bowman said last week, "[Kane and Toews] will be here forever."
But it appears that Bowman does have a legitimate shot to keep both superstars. There are a few likely moves that Bowman has to make sure this happens.  Although this would not be the Blackhawks first option, the team could try to move Marian Hossa or Patrick Sharp. Sharp does have a no-trade clause, that means Hossa would be the one to get dealt in the next few years, if need be.
The best-case scenario (which would include keeping Hossa, Kane and Toews) is not completely out of the question. What the Blackhawks would have to do is replace some of the role players with even younger ones. Michal Handzus, Brandon Bollig, Andrew Shaw and Nikolai Khabibulin are all on their last years of their deals. Marcus Kruger, Brandon Saad, Johnny Oduya, Nick Leddy and Michal Rozival are all having their deals expire in 2015. The year when Kane and Toews become free agents.
The Blackhawks farm system is one of the better systems in the league.  Not only would the current farm system be beneficial in a few years from now, but three current roster spots are open as we speak. Word has it that Center Phillip Danault may be pro-ready very soon. Other center prospects include Teuvo Teravainen, Brandon Pirri, and Drew LeBlanc.  Goalie Antti Raanta could easily replace Khabibulin next season. Wingers Jimmy Hayes and Ryan Hartman also could see some action in the near future as well. Defensemen Adam Clendening and Klas Dahlbeck are considered top-tier prospects.  It will be an interesting few years coming up for a franchise that is trying to make a dynasty.
(All financial figures courtesy of CapGeek.com)